By Bud Lemire
The journey in time
Of the soul and the mind
Isn't the easiest of all
We stand, and we fall

But you my friend, have grown
Of all the people I've known
While sitting there in your power chair
People have told me they see you everywhere

I know the accident that put you there
Made you the man who knew how to care
You gave so much from your heart
To me, your giving was only the start

Many times I was ready to quit
You always talked me out of it
I'm glad that you did, to this very day
I returned to your side, after going away

You've been through more than anyone should
I know if I had to, I don't think I could
"How does it feel to lose someone?" you asked long ago
At this time in your life, you already know

The choices in life is ours to make
The path that we go down is ours to take
The Angels are singing and welcoming you home
To be embraced by family and friends you have known
As your life takes you to the Journey's End
I thank God that he let me be your friend

Bob, your journey here on Earth is coming to an end,
but your spirit goes on in the Heavenly World.
Your Mom, Dad, Grandma, Mickey, Bert, and many others
you know are waiting to welcome you home.
You'll be able to walk again, and even dance if you want.
Most of all, the pain you had here, you won't have there.
You'll have the best of Heavenly Love.
Take care my friend, and I'll see you when I come home.
©Jan 4, 2012 Bud Lemire
Note: Bob passed away January 5, 2012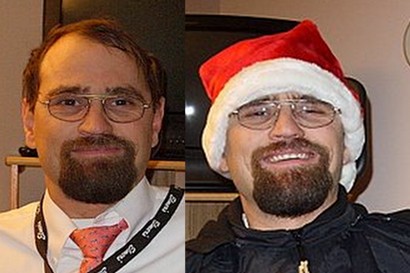 ---
Click on Bud Lemire for bio and list of other works published by Pencil Stubs Online.