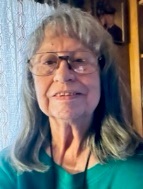 November 2022
"Thanksgiving day is a jewel,
to set in the hearts of honest men;
but be careful that you do not take the day,
and leave out the gratitude."__E.P. Powell

The present calendar has your editor's favorite Holiday which always falls on the fourth Thursday--Thanksgiving! Somehow, it seems more a family shared holiday than even Christmas which can be fraught with purchasing just the 'right' gift, meeting deadlines for school and/or work parties, and the usually cooling weather that seems to slow down everything at the very time one needs to hurry, hurry, hurry! So enjoy November's sports in present or with the magic of television coverage, and settle yourself to enjoy heartier meal menus. 'Tis the season!

It is also the season when leaves fall from the trees. shrubs, and flowers, reminding us that we, too, can someday meet our own falling away time. Faced with the untimely passing of our beloved columnist and poet, Dayvid Bruce Clarkson, we are showing his final column as a tribute for him -- "Reflections of the Day."

"A Mother's Lessons" by Danielle Cote Serar, recounts her feelings on watching her children as they respond sometimes to others rather than herself. "On Trek" by Judith Kroll, addresses thoughts, ideas, and hopes concerning one's "Higher Self."

"Introspective" by Thomas O'Neill, shares his thoughts and memories of Thanksgiving, and his attempt to convey the meaning of that holiday to his students in China. "Irish Eyes" by our Dublin based Mattie Lennon, brings us into the picture, well, the books, he discusses for November, with disclosures from the authors and those familiar with the historic scope of the tales included.

"Sifoddling Along," by Marilyn Carnell, lets fond memories weave her column as she focuses on the little home where she lived as a youngster, and later. "Woo Woo," by Pauline Evanosky, delves into the actual mechanics of learning to channel.

"Cooking with Rod" by Roderich Cohenour, is an encore of one of his post-Thanksgiving meal plans since he is hospitalized for tests and surgical evaluation at this time. Prayers are welcome for the ideal outcome, says his wife Melinda Cohenour. Since she is primarily concerned with his well-being currently, she offers a brief explanation in lieu of her usual information in her column the "Armchair Genealogy."

This issue boasts two articles, one from the hand of LC Van Savage, former columnist who focuses primarily on crafts and authoring more books now. As always. she tells it like it seems to her as she proclaims "Here's To the Guys Who Brought it Over." The other article, "My Experiences with the Spirit World," is by long-time friend Julie Anne Carey, who was born in Australia, and stil resides there. Do click her byline and read her biography.

This poem by Dan Kangas was brought to mind by her article, so here is an encore of "My Awakening." Bud Lemire's poems are "Cousins, Connect By Heart & Soul," "Halloween At Harbor Tower," "Reflections in My Glasses," and "Feeling The Silence." Bruce Clifford, submitted "On The Outside," "A Boy in the Park," and "Do You Still Dream?"

Walt Perryman's life takes many twists and turns but the Cowboy Poet that he is can always find the words to clue us into his musings and reactions, no matter what. His poems this month are "My High School Reunion," "Hometown Memories," "More Good News," and "My Hospital Stay."

Perryman is also the author of the continuing presentation that reveals the compositions titled "Honey Dog Tales." Chapter Three is in this issue for our readers to enjoy!

We continue to thank our co-founder and webmaster, Mike Craner, whose knowlege and expertise keeps Pencil Stubs Online actually online. He does it well as we are now in our 25th year. Happy Thanksgiving, Mike!

Look for us in December.
---
Click on author's byline for bio and list of other works published by Pencil Stubs Online.
---