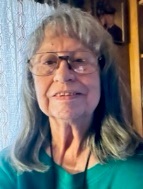 January 2022
"An optimist stays up until midnight to see the New Year in.
A pessimist stays up to make sure the old year leaves."
William E. Vaughan, Journalist and Author.

A New Year! New plans, dreams, additions to the Family Tree, new friends, and likely, a few new bills. I try not to dwell on the latter because I'm one of those Greet the New Year persons. I get excited about new recipes, foods, ideas, inventions, new telescopes being launched into Space so we can learn new info about our galaxy and perhaps others, as well. What do you get excited about?

This is our largest issue in awhile. We always feature the annual forecast by Michael John Fierro, world renown Numerologist, who kindly supplied us with several columns a few years ago explaining for us what Numerology is and how it can be applied. Those columns can be viewed by clicking his byline with the article, "2022 -- A Universal 6 Year."

"Raymond Street II" is by Harmony Kieding from New England who now resides in Tonsberg, the largest city in Norway. Composed in free verse and lengthy, and detailing experiences and realities, we chose to highlight it in article form. This is her first occasion to appear in our eZine and we welcome her and her writings.

"The Ultimate Library-Akashic Records" an informational piece that describes in part, what the title means. This was received several years ago, but recent questions made it feasible to publish now.

"A Tribute to my Friend Randy Jackson," is by your editor's sister Melinda (nee Carroll) Cohenour, a classmate of his who remained a close friend. He is already missed, and the impact of his loss will affect many.

We welcome another new-to-our-pages poet, Judy Harris who delightfully regales us with her night before the big holiday accomplishing such a tasty repast along with her husband's help that they may add it to their "Christmas Traditions." Walt Perryman steps up with these poems: "About New Year's Eve," "The Trail of Life," "Words," and "Think You're Doing Good?"

John I. Blair, one of our most prolific poets who has been under the weather, sent three poems for January, "Raccoons on Parade,' "Responsibility," and "What's Afoot, Sherlock?" Bruce Clifford also shares three, "Living in the Age," "Here We Go Again," and "Hide Away Eyes," Three also from Bud Lemire (chosen to show this issue from the several he submitted which will be published at a later date) "A Happy New Year," "There's Still Hope," and "Too Hard To Ignore."

Judith Kroll's column "On Trek" discusses how unwarranted guilt can creep into our thoughts, and what she is thinking this time of year. "Cooking with Rod" by Roderick Cohenour who loves this time of year, realizes that when holidays run close together, leftovers can be a problem. His solution, features a recipe by his wife, honoring the tradition of having certain foods at the New Year to invite prosperity.

Melinda Cohenour who does "Armchair Genealogy" continues her project of helping to clarify comprehension of the history of DNA and its applicaton in numerous fields, with Chapter Two of this series. Marilyn Carnell whose column is "Sifoddling Along" admits to having some concerns as the worldwide Virus continues to affect everyone's lives. However, she has several suggestions to make the New Year productive for all of us.

Dayvid Bruce Clarkson, in "Reflections of the Day" admits it is a tough time of year to have experienced the loss of loved ones, and gives a beautiful tribute to his mother. Mattie Lennon in his "Irish Eyes" tells us what he's been reading and advises us to do the same. It's all about travel and the Irish Garda's certain special men who set fine examples for law enforcement anywhere.

In his column "Introspective," China based Thomas O'Neill mentions the many changes in the world of theology since his youth, but avers his personal faith as well. "Woo Woo" the column by Pauline Evanosky explains how calling on a guide can help one stick to their resolutions for the New Year.

Mike Craner and wife Susie, shared some heart-warming photos of their experiences in a nearby school, as Santa and his Missus, along with their youngest daughter as assistant. They are the backbone of this eZine which was co-founded by him and your editor. Mike keeps this informational and entertaining publication viable. Much love and appreciation to them every day. Thanks, Mike, for everything,!
Happy New Year!
---
Click on author's byline for bio and list of other works published by Pencil Stubs Online.
This issue appears in the ezine at www.pencilstubs.com and also in the blog www.pencilstubs.net with the capability of adding comments at the latter.
---