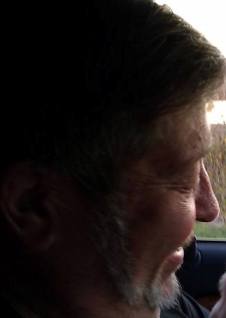 By Rod Cohenour
Saints and Sinners?
Heaven and Hell?
Wings and A Trident?
Halos and Hooves?
Angels and Devils?
Halos and Horns?

No matter how you name it, it is magnifico ... delicioso ... Perfecto!!
Italian cuisine is as varied and wonderful as any on this planet. One of my most well loved dishes is one even the Italians swear is hellaciously warm. The dish? Creamy tender chicken breasts, seasoned to perfection, nestled in angel hair pasta and smothered in a sauce that can only be described as "Heaven gets a little naughty!"
As usual, this is a meal perfected in collaboration with my wife who enjoys being a foodie as much as do I. This is our take on the classic Chicken fra Diavolo or Chicken with Brother Devil's Sauce.
Although we set forth the spices and herbs I used in preparing this dish recently, my wife has a fail-safe recipe for her homemade blend for Italian seasoning. The recipe (included below) makes enough seasoning for many uses and keeps well. Mix this up and you can simply use a bit to season the chicken before adding it to the skillet as well as the bit used to enhance the sauce.
Accompany the Halos and Horns with some crispy garlic bread and a chilled antipasto salad, melt a few slivers of mozzarella on each chicken breast if you choose. Dare to prepare.
Bon appetit~!
Halos and Horns

Ingredients:
1 large or 2 medium bell peppers, diced medium
1 medium onion, diced
Butter flavored PAM style spray for skillet
1 lb, 13 oz (28 oz) can crushed tomatoes in tomato puree, unsalted
1 10 oz. can diced tomatoes and green chiles (Rotel style or use Rotel)
1 can 28 oz unsalted tomato sauce (plain or opt for fire roasted or Italian style with more peppers and onions. Reduce Italian spices listed below if using the Italian style sauce, however. Taste test.)
3 lbs boneless skinless chicken breasts (about 8 breasts). Best option are flatter pieces of fairly uniform size for even cooking
SEASON NOTE: Use Ms Homemade Italian Seasoning on chicken breast pieces before adding to skillet. OR use the following mixture of spices and herbs:

Dash of red pepper flakes if you like the heat.
1 Tbsp granulated garlic
2 tsp cumin
2 tsp oregano
2 tsp basil
1 tsp fresh ground peppercorns
PASTA NOTE:
1 lb pkg angelhair pasta
Water as per pasta directions
2 Tbsp sweet creamery butter (or margarine)
2 Tbsp dried parsley (reserve 2 tsp for garnish)

Instructions:
1. Spray 16" electric skillet. Heat to 350°. Add bell pepper and onion to saute. When onion has become translucent, add canned tomato trio. Stir to blend. Sprinkle some of the Italian style spices over sauce. Stir. Cover.

2. Season chicken breasts with spices. Place breast pieces evenly around skillet. Chicken pieces should be partially submerged in sauce. Lower temperature to about 300° (medium heat). Cover skillet and allow to simmer about 20 minutes, turn chicken pieces. Cover. Allow to simmer about another 15 to 20 minutes. Chicken is done when thickest part is pierced and no juice or CLEAR juice emerges. Turn off heat. Cover to keep warm while plates are prepared.

3. Prepare pasta per package directions while chicken and sauce are in final cooking stage. When tender, drain. Add butter or margarine and toss. (This prevents pasta from becoming sticky and clump and imparts a delicious flavor.) Add about 1 Tbsp dried parsley. Toss.

4. To plate, spiral angelhair pasta on dish with a slight lip (this is a saucy dish). Top with chicken breast. Spoon fra diavalo sauce over chicken and pasta. Sprinkle with dried or shaved parmesan cheese. Garnish with dried parsley (can opt for fresh basil leaves, parsley, or green onion tops as your garnish.)
Serves 4 or 8, depending on appetites. (See pic below.)
Best served with a crusty bread, chilled salad with dressing of your choice, and a cold drink, tea or lemonade are especially tasty.
* * * * *
Ms Homemade Italian Seasoning Blend
2 Tbsp dried oregano leaves
2 Tbsp dried sweet basil leaves
2 Tbsp dried parsley leaves
2 Tbsp granulated garlic OR 1 Tbsp garlic powder
1 Tbsp cumin OR 2 tsp ground coriander
1 Tbsp red pepper flakes
1 Tbsp marjoram OR 2 tsp ground sage
1 Tbsp rosemary
1 tsp thyme
1 tsp freshly ground peppercorns (fine grind)
Using a small food processor, add rosemary to break up the little needle-like leaves. Using on/off method (pulsing) process until stems and leaves are chopped to a palatable size. Add oregano, basil, red pepper flakes, and ground peppercorns. Continue pulsing until of a medium grind.
(NOTE: I prefer to have the leafy dried herbs in larger size; I don't even process the parsley and if my oregano and basil are stem-free I don't process them either).
Empty food processor into a small bowl. Add remaining herbs and spices. Whisk together. Put entire mixture into a clean DRY jar. Seal with tight-fitting lid.
Store in a dark, cool pantry or cabinet. Makes about 14 Tablespoons seasoning. Should store safely for up to 6 months if kept in airtight container in the cool, dry shelf or spice drawer.
Use to make herbed chicken, spaghetti sauce, to season grilled vegetables, a salad dressing, lasagne - any dish calling for Italian seasoning.
---
Click on author's byline for bio and list of other works published by Pencil Stubs Online.
---