Writers week 2019
It's that time of year again, I'm writing from Listowel Writers' Week. Listowel is this year's tidiest town. The festival began on Wednesday 29th with this year's festival officially opened by award winning author Joseph O'Connor, one of our most prominent authors in Ireland today. In 2014 he was appointed Frank McCourt Professor of Creative Writing at the University of Limerick. His nine novels include Star of the Sea, Redemption Falls and Ghost Light. His new novel Shadowplay will be published in June. Amongst his very successful novels is Star of the Sea which was a choice of Richard and Judy and was the highest selling literary novel in the UK in 2002, selling more than a million copies has now been published in almost 40 languages.
His novels have won many prizes and accolades around the world. Joseph received an honorary Doctorate in Literature from University College Dublin in 2011 and he received the Irish PEN Award for Outstanding Contribution to Irish Literature in 2012. Joseph gave a funny and uplifting reading of his own work and opened the festival to thunderous applause. President Colm Toibin brought the house down with his eloquent contribution and additional entertainment was provided by "the Jimi Hendrix of the accordion" Liam O' Connor and songwriter Emma Langford from Limerick. That Listowel legend Danny Hannon affectionately known as "the old pro" was presented with the "John B. Keane Lifetime Achievement Award 2019." At 86 years of age the great champion of new writing for theatre hasn't lost any of his wit or drive.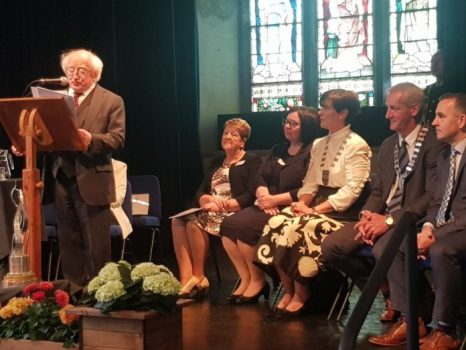 President Higgins at Listowel
(Michael D. Higgins visited Listowel ahead of Writers' Week. The President praised Listowel's sense of community in winning the National Tidy Towns Competition. President Higgins and his wife Sabina were welcomed in The Square, Listowel on May 25th by the Presentation School Band and received a guard of honour from the Girl Guides, Brownies and Ladybirds.)
* * * * *
Thursday started with a Yoga session, in which I didn't participate. But the river walk narrated by Owen McMahon covered every aspect of Listowel past and present. The day included book launches too numerous to mention and two dramas The Curse of the Button Accordion and Inisfallen Fare Thee Well were not to be missed. Both were one-person performances; Comedian, Sharon Mannion gave a brilliant performance in "The Curse . . ." and veteran actor Ronan Wilmot was his usual star self in "In Inisfallen Fare Thee Well."
The Michael Harthett Memorial Poetry Event was a wonderful session. The night finished (late!) with Poets' Corner , and open mic session in Christy's Bar.
* * * * *
Today, Friday, I once again skipped the yoga in the morning. But the Town Walk with local historian, Vincent Carboy wasn't something to be missed. Vincent is a walking library on all matters past and present pertaining to Listowel . He brought us in the footsteps of bell-ringers, blacksmiths, painters and shoemakers. Stories of weavers and harness-makers were woven seamlessly into tales of great writers like John B. Keane and Bryan McMahon.
Two dramas, Red Noise with Owen O 'Neill, and Life Sucks were both flawless productions. The former is a mixture of storytelling and poetry. The true stories from his own life include an account of how he was struck by lightening at the age of nine. And how he was interrogated by an IRA man with a stammer, ("It was the longest two hours of my life." )
Author Christine Dwyer Hickey, as usual, gave a great account of herself, in her interview with Niall Macmonagle. Her latest novel, The Narrow Land, was published to great acclaim earlier this year.
At the time of writing the festival (one of the greatest literary events in the world) is only halfway through. ( Apart from workshops and fringe proceedings I have counted eighty one events .)
But before I close the laptop let me tell you about the launch of Farewell to Poetry; Selected Poems and Translations, by prolific poet Gabriel Fitzmaurice. I won't tell you Gabriel's age but let me say that I believe he has a portrait in his attic. He pretends that he doesn't know how many books of poetry he has written but I lost count at sixty. "The poems picked themselves," Gabriel says of the 164 poems that make up what he threatens to be this final poetry collection.
"These are the poems that speak to me," he says and in his introduction, explains how he came to the conclusion that "the job is done". I hope he changes his mind about saying "Goodbye."
I'll fill you in on other aspects of the festival in next month.. Billy Keane once described Writers' Week, the first literary festival in Ireland, as, " . . . a kind of modern day version of Haight-Ashbury in San Francisco during the 1960s, where everybody is chilled and into peace on earth and the flourishing of the arts and of writing."
Which reminds me; "The annual " Healing Session", the greatest open-mic session in Europe, if not the world, will be held again in John B. Keane's on Sunday.
See you in July with a full account.
---
Click on author's byline for bio and list of other works published by Pencil Stubs Online.