By Eric Shackle
Dickens Disliked These Statues
Tuesday, February 8, 2011
The famous British author and social reformer, Charles Dickens (1812-1870) wanted to be remembered by the books he had written, and not by statues.
So he would not have been worried when vandals 40 years ago removed a marble statue showing him holding a quill and a scroll of paper, from an honored position in Sydney's Centennial Park.
The statue was recently exhumed from the backyard of a house in the Blue Mountains, an hour's drive west from Sydney.
It has now been restored to its original position in Centennial Park.
The only other life-sized statue of Dickens (whose books are still popaular in many countries) is in the U.S. -- in Clark Park, West Philadelphia (aptly named the city of brotherly love).
American sculptor Frank Elwell designed and cast a beautiful grouping of Dickens and Little Nell. In his home country, a monument to Dickens will be erected in Portsmouth to be featured in next year's celebrations to mark the 200th anniversary of the great author's birth.
Rare Charles Dickens statue restored to Sydney park after 40 years missing.
Related story: Off With Their Heads!
http://bdb.co.za/shackle//articles/beheaded.htm
www.mirror.co.uk/.../hard-times-over-charles- dickens-statue-115875-22913838/
See Below: Sydney's life size statue of Charles Dickens, one of only two in the world. Photo: EPA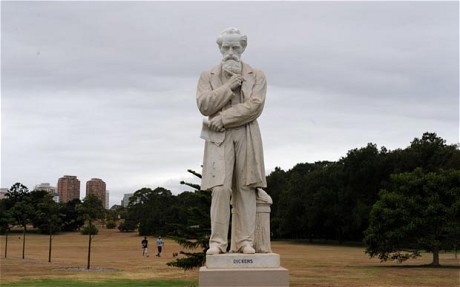 ---
Click on Eric Shackle for bio and list of other works published by Pencil Stubs Online.