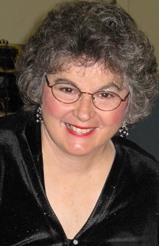 By Judith Kroll
My Grandma
My grandma was one of a kind. At least I thought so, thinking back on her, and her life, and my little part in it.

My dad's mom had a lot of attributes my dad inherited. She was always up for a good laugh, and treated everyone like her true family. Memories and stories abound when I think of her, and one memory pops into my head this week. I lost my daughter in law Gwen and then This week I lost a dear friend of over 60 years. We always kept in touch, and we were part of the same graduating class. Love them both to life.

The memory was when my Grandma, whom we called mime, lost one of her sons. She had broken her leg or something and couldn't go to the funeral. I was about 9 or 10. Everyone loved Uncle Billou, as we called him. We came back from the graveside going straight to my grandma's home.

They set up a bed for her, in the huge living room, and I sat down, and listened as she asked how the funeral went. She smiled at everyone, and then, she was left lying there thinking, and she just burst into tears. She covered her face, with her beautiful hands that always hugged me with love. Her body was shaking the tears down her face.

This is when it hit me. She buried her first child when he was 15. He went sledding down the road. No cars then, but that one day, a car just showed up. 3 daughters passed, leaving 2 men left. My Uncle and My dad. Not counting her own brothers and sisters, parents, friends, etc. She lived to be 103. No one left except her two boys, grandkids scattered over the US, etc.

What hit me? How much strength each one of us has to bury our loved ones. Missing their smiles, their touch, their voices, their goodness. It is not easy, but we are all supportive of each other and we all feel the same pain. We truly are stronger than we believe. Love always, grieve with love, always.
Judith 1/10/22

I would like to add, when my dad passed he would send me pictures, and videos from the other side. One video was all my relatives. My mime was in the video, younger, beautiful, and had the biggest smile. All that passed for me was there. It was amazing. Ty Daddy.
Love, Judith
---
Click on author's byline for bio and list of other works published by Pencil Stubs Online.
---