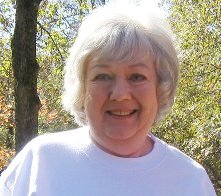 I Am An Immigrant
I am an immigrant. Not in the usual sense, from another country, but from another place and another culture from where I presently live in Minnesota.

I was born and raised in the Ozark Mountains of southwest Missouri, and it was the most influential part of my life. In the Ozarks, a newcomer is called a "foreigner". Strangers stick out in the society and are usually vetted by some old-timer with the question "Who are your people?" Relationships are an important and short-cut way of deciding if the new person will fit in and what part of society they belong to.

I was identified as "Bill Carnell's girl" most of my young life. My dad was well known in the community as the County Superintendent of Schools, so everyone knew who I was and that I was expected to be hardworking and studious.

After going to college, I became a gypsy and have moved more than 30 times and lived and worked in seven states. Each of those moves threw me into the company of strangers and each of them greeted me in different ways. I have written about the trials of getting a driver's license (by the way both times I moved to Minnesota were the most difficult).

Like many immigrants, I was uprooted by a catastrophic event. We had lived peacefully on the banks of Big Sugar Creek in Missouri for more than 25 years when it suddenly became a roaring monster flash flood that destroyed our home. We escaped with the clothes on our backs, a bag of medicines, and my purse with a cell phone. The next month of homelessness, a second flood that destroyed much of what we had salvaged, the near-death of my husband from stress topped by an F5 tornado in Joplin, the nearest city led us to decide the only option was to come to Minnesota to be near my son and his family and catch our breaths.

I had lived in Minnesota for 12 years in the 1960s and 70's so I thought it would be an easy transition. This time I was not cushioned by a job and a child in school to make acquaintances. We were invisible. I found that "Minnesota Nice" was best described the way pioneers described the Platte River. "A mile wide and an inch deep." People were pleasant and welcoming, but that did not include welcoming one into their lives. In the ten years since we moved here in 2011, I have been invited into the home of one neighbor and the visit was brief. I have yet to meet a person who has moved to Minnesota who felt they were readily accepted and had a place to fit in.

As I usually did after a move, I sought a church for solace and healing. Unlike my move to central Illinois, it did not take visiting six different churches before even a pastor greeted me, I was welcomed by the first church I attended. After finding that women of a certain age were not expected to actually do anything, I came to Union where I was warmly greeted and accepted into the choir. Almost immediately I felt a part of the church community. "This is different", I thought. "I like it here. I have a place here."
---
Click on author's byline for bio and list of other works published by Pencil Stubs Online.
---