By Bud Lemire
In the Upper Peninsula of Michigan, there's so much beauty to see
From Houghton and Hancock to Marquette and Negaunee
The Porcupine Mountains, Kitch-iti-Kipi, and the ghost town of Fayette
The Pictured Rocks, the Soo Locks, many places you'll never forget
The Keweenaw Peninsula, and the Portage Lake Lift Bridge
And Ice Fishing in the Winter, is like being in the fridge


From Escanaba and Gladstone, there's so much you can do
Ludington Park, or a visit to the DeYoung Zoo
Van Cleve Park, or a visit to Bond Falls
You go, when the Upper Peninsula calls


Mackinac Island, the Bridge, and the Fort too
There's so much to see, you'll never be through
Tahquamenon Falls, and Baraga State Park
You'll be traveling all day, until it gets dark
Lake Of The Clouds, and Brockway Mountain Drive
There's so much beauty, you'll be happy to be alive


Presque Isle Park, Ishpeming, wherever the road will take you
Stonington to see the butterflies, and skies so very blue
Sugarloaf Mountain, Iron Mountain, and so much more
Beauty found throughout this land, and on every shore
The Upper Peninsula Of Michigan, where beauty is everywhere
It's great to be a Yooper, and wonderful to be living there
©Jan 25, 2022 Bud Lemire
Author Note:


It's great to be a Yooper and to enjoy all the beauty of living
in the Upper Peninsula Of Michigan, better known as the U.P.
Whether you are a native returning home for a visit, or a visitor
from elsewhere, it's a great place to visit.
---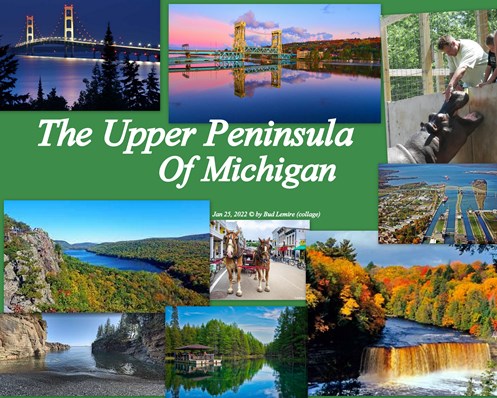 Click on author's byline for bio and list of other works published by Pencil Stubs Online.
---