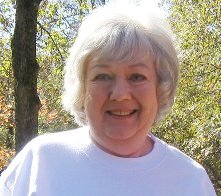 Small Town America
When I was growing up in Pineville, Missouri, it was a small market town that was a "walkable" community - something missing from most of our lives today. At that time a car was unnecessary for most people which was fortunate because few could afford to have one. Within walking distance, you could get married, be buried, have a baby, pay your taxes or find any other product or service needed for daily life. If all else failed there were always the catalogs from Sears Roebuck or Montgomery Ward. (There is a Sears house still standing on 2nd Street.)

More than 30 businesses were on or near the town square where the County Courthouse reigned. The town was busy every day but Saturdays were special. It was the day most farmers came to town to shop and catch up on the news. Merchants gave away tickets based on sales volume and a drawing for small cash amounts was held at three o'clock sharp. A large crowd gathered around the merchant in charge that day and he whirled the revolving drum holding the tickets. Usually, a child picked the ticket, and each lucky winner was announced with great fanfare.

There were two "drug stores". They were called that for simplicity, but only one had a pharmacist who compounded medicines in the back room. That was "Halls" and the other one called "Bonnibelle's" one of the owner's names.

My first full-time job was being a soda jerk at Hall's in the summer of 1955. I was 15 years old and as green as grass. A customer asked me for a product and I said loudly "I don't think we sell XXX." My aunt happened to be in the store and she quickly took me aside and whispered that XXX was a feminine product that I later figured out was some kind of birth control.

Fortunately, that is the only negative incident I remember.

It was a heavenly place to work for a teenager. Not only were there lots of people coming and going which I enjoyed, but I had unlimited access to the soda fountain. I always took care of the customers, but I also consumed countless servings of ice cream and sodas. Only the fact that I walked to every destination and also went swimming in Big Sugar Creek for a couple of hours after work kept me from gaining a lot of weight.

In those days sodas were "jerked" by pulling a lever that portioned out flavored syrup held in stainless steel containers. Coke syrup came in large glass bottles and Mrs. Hall made gallons of simple syrup at home and brought them to the store. We also had chocolate, cherry, lime, lemon, and possibly other flavored syrups to custom construct an item. Milkshakes and malts were popular. We always had vanilla, chocolate, and strawberry ice cream and some other varieties like black walnut and spumoni - all very high quality

We had regular customers - one man came in every day promptly at 10 am for his daily Bromo seltzer fix. Many years later I discovered that bromine is very addictive.

Another "perk" was access to free comic books. After they expired and were replaced the top half of the cover was torn off. I got my pick of the free stuff. I was only 15 after all.

Although on the surface the two stores were similar - heavy wood back bars and soda equipment, they were very different in an important way. Bonnibelle sold beer quietly at the back of the room. Some children were forbidden to go there for that reason. Pineville has a history of intense feelings about alcohol. The national president of the WCTU was from that unlikely place.

I was allowed to go there when I was in grade school and spent many Saturdays nursing a Coke, an ice cream cone, or a bag of potato chips (5 cents each) at Bonnibelle's and then walking across the street to see the afternoon double feature (10 cents). The Perils of Pauline terrified me. I was convinced she would be squished by a thundering train. One of my favorite movies was a series called Nyoka the Jungle Girl. I spent hours climbing trees and pretending I could swing through the jungle-like her. Others were cowboy movies featuring Roy and Dale Evans and Hopalong Cassidy.

A lot of fun for less than a quarter.

Today Pineville is a ghostly place that makes me sad to see. The products and services businesses are all gone and most of the buildings are occupied by city and county seat-related offices - law offices round out the rest. No tax base but they do profit from the Use Tax I got passed years ago. You could shoot a cannon down Main Street without the risk of harming anyone. It could have been different but the results of greed and poor city management are plainly evident. Now you must have a car to escape its depressing existence.
---
Click on author's byline for bio and list of other works published by Pencil Stubs Online.
---