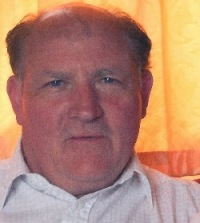 THE COBWEB
I haven't as yet been discovered by Hollywood (or even by Dunlavin!) I was however an amateur actor. In the spring of 1965, I played Trooper Devane in The Cobweb's Glory with the Lacken Theatre Company. This is a play with six characters, teeming with misunderstandings, conspiracies drama, and side-splitting comedy. The "Cobweb" of the title was a greyhound and could be considered the star of the show. His real name was Sam and racing wasn't really his thing. He was owned by a family in Ballyknochkan. The Cobweb was owned by Jerimiah Gilhooley and trained by Trooper Devane.

We played to full houses in Lacken, Valleymount, and surrounding parishes. Everybody gave a good account of themselves. Nobody forgot any lines or bumped into the furniture. My character's line "Do I look like a man that would eat sausages" always got thunderous applause. Trooper has stolen sausages, for the greyhound, from Bessie Costello, the woman of the house. But I believe the audience's hilarity had something to do with a certain reputation that yours truly had which I won't go into here. Stephen Sweeney, an artist and suitor of young Nora Mary had a line, "A most artistic strangulation." Every night at rehearsal, without fail, he would deliver it as," A most artistic strangulisation." However, by opening night, the producer's insistence had paid off and the line was uttered with perfection. (The same producer put a lot of effort into trying to convince me to slow down my speech. The message eventually partly sank in. But it took almost fifty years.)

Trooper Devane managed, each night, to threaten the Bailiff Matt Dunne with a dung fork without stabbing anyone. Sam didn't misbehave on stage. Until . . . one night we put on the play, as a favour to the producer's friend, for a fundraiser in Greenane in the far-flung backs of Wicklow.

Things went well until, in the middle of act three, Posh and excited Belinda Hanratty breezed in from stage left brandishing a cup with the Cobweb in tow. The dog had won a race that would cure all Jerimiah Gilhooley's financial ills. Jerimiah wasn't at the race. He had stayed at home as he was grounded with the gout. Breathless Blinda was giving a full account of the dog's performance,

" . . . He passed Zut. He passed Kilnascreena Hero, then . . . then . . ."

The Parish Priest's cat appeared beside the prompter in the wings. Instinct took over and The Cobweb reverted to type. In the resulting melee, Belinda Hanratty and her old flame Jeremiah Gilhooley were thrown together in a manner not specified in the stage directions.

The play was written in 1946 by three Listowel writers who used the nom-de-plume Bryan Michael O' Conner. The fact that it has stood the test of time was proven recently by a production under Joe Murphy in Saint John's Theatre, Listowel;. It's available on YouTube; "Cobweb" on YouTube

Our "Cobweb" has long since gone to that Boarding Kennel in the sky.

The producer and two of the actors from that production are now on a Celestial stage. And the rest of us are waiting in the wings.

Speaking of Listowel, Frances Kennedy, third from left in pic, who played a blinder as the formidable Bessie Costello has brought out a 15-track CD Close the Half Door.
Here is a link to the Play List Track: Half Door Play List
* * * * *

A young man from Warsaw married a local girl and they live in the area. He is a very nice fellow and he suffers from Thanatophobia, which as you erudite readers know is a severe and sometimes permanent anxiety about one's own death. I met him at Punchestown races and he was in a state. "Mattie," he said, "my wife is planning to poison me."
"Listen, Jakub, says I, "Your wife comes from a very respectable family. She has a good pedigree. If she was a greyhound pup I'd buy her and there is no way that she would poison you. What makes you think that?"
He explained, "She left the drawer of her dressing table open and I saw a bottle with a label, Polish Remover."
* * * * *

With the death of Bill Meek, April 15th, we lost a great singer/songwriter, folk-song collector, writer, civil rights activist, and broadcast journalist. Here is a recording of him singing one of his own compositions, Heroic Crubeen.
Heroic Crubeen wav

As part of one of his many projects, Bill sat hour after hour interviewing Paddy Maloney. The result was "Paddy Maloney and the Chieftains."

It includes more than a hundred photographs showing everything from Paddy Maloney meeting the Pope in 1980 to the Chieftains playing on the Great Wall of China. I'm lucky enough to own a copy of the book which, as far as I know, is now out of print. If you can manage to track down a copy it will be well worth the effort.

He was famous on both sides of the Atlantic and further afield. Of his trip to South America he wrote the following;

"Visiting South America in 1987 will always remain a highlight of my life, both professionally and otherwise. It all began when my brother-in-law John Redmond, then attached to the Irish embassy in Buenos Aires, suggested the idea that as a radio producer/presenter with RTÉ (the Irish national broadcasting station) I might consider making a documentary series on the Argentine community of Irish descent. My response was one of enthusiastic interest, but tempered by caution as it was a time when there were many cutbacks in radio budgets, and projects involving travel abroad were subject to close scrutiny at the highest administrative level. Nonetheless, I went ahead with preparatory planning and duly submitted a proposal. To my delight, indeed almost amazement, the submission was approved. Thereafter on May 25 (a coincidental but nevertheless appropriate date), I found myself - microphone in hand - in the centre of Buenos Aires."
Bill Meek recording a group of Bolivian street musicians in Recoleta, Buenos Aires.
* * * * *

My own neck of the woods is once again in the news. I would like to share part of an Irish Times article, of April 27t, with you;

"A group of parents of children attending a County Wicklow primary school has expressed anger at the school's decision to exclude teaching about "same-sex friendships" and contraception from relationships and sexuality education (RSE).

Education Equality, a voluntary parent-led rights group, said that it was "appalled" that Lacken National School in Blessington had told parents in a letter of April 5th last that "teachers do not cover topics such as contraception and same-sex friendships" in the school's RSE programme. Parents were told in the letter that "children who ask questions in class on content outside the designated curriculum are encouraged to discuss the issues with their parents. "Parents are informed and asked to talk to their child," the letter continued. . . "

See you in June
---
Click on author's byline for bio and list of other works published by Pencil Stubs Online.
---