By Bud Lemire
In every life, there's a detour
It takes you away, so you can learn more
Off the beaten path, to a new place
A new experience, for you to embrace

Detours are fun, you just never know
Where you'll end up, where you will go
The unknown, can bring on some fear
"What the heck am I going to do here?"

Rest assured, you'll know what to do
Listen to your heart, and it'll ring true
A new adventure, a story to tell
One that you know, only too well

You're not lost, from where you should be
Experiencing something new, is the master key
Unlocking future doors, as you go along
When your soul takes the lead, you can't go wrong

Take a detour, enjoy everything
Dance with the flow, you can sing
Sometimes life takes you, somewhere new
Where you enjoy it, as you take in the view
©Jul 12, 2023 Bud Lemire
Author Note:
For some, detours can be scary. But if you use
common sense, and the skills all humans have,
it can turn out to be the best place you can be.
It will be a place you never thought you'd be. But
because the detour took you there, you found a new
place, new friends, and a new life. You can always
go back to that road you were on, but you can also
stay where the detour took you. Because all roads
lead to home.
---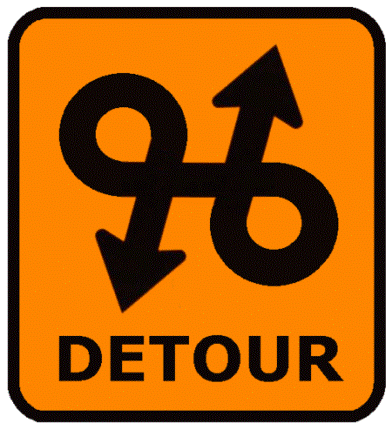 Click on the author's byline for bio and list of other works published by Pencil Stubs Online.
This issue appears in the ezine at www.pencilstubs.com and also in the blog www.pencilstubs.net with the capability of adding comments at the latter.
---