Irish Eyes
"Trad" after Eyjafjallajokull
As soon Eyjafjallajokull stopped spewing ash I headed for Dublin Airport.
So, I've spent a few busy but very enjoyable days in Boston.
I was on a fact-finding mission with three other committee members of the CIE Transport Gaels Gaelic football club. We were paving the way for a group of 107, from Ireland, who will be visiting Boston in October. We were suitably impressed. Bus tours, boat tours, shopping, sightseeing and negotiating prices for our forthcoming visit proved to be challenging, informative, entertaining and educational.
Stories from both sides of the Atlantic were exchanged. We gave the Bostonians anecdotes from Dublin Sligo, Kildare, Donegal and Wicklow.
The manager of a prestigious establishment on Tremont Street told us a funny story about his visit to Dublin.Let me give you a little background; Copperfaced Jack's is a well known nightclub in Dublin. A "slapper" in Dublin is a Young, or not so young, lady who is, shall we say "pelvic-focused.").
Copperfaced Jack's was recommended to the Bostonian where, he was told, "the slappers are good there." Thinking that he was being informed of a finger-food delicacy he asked one waitress and several security-men, "Where are the slappers"?
Myles nag Copaleen had a play, Fausty Kelly,running in the Abbey Theatre, In Dublin in the nineteen fifties when Patrick Kavanagh was writing theatre reviews for the Evening Press. Myles asked Kavanagh, "will you give my play a good review?" only to be told, " I will . . .I'm not that honest."
Well, I would be less than honest if I described Tir Na's production of Trad, in Boston, as anything less than brilliant. Trad, by Mark Doherty, is the story of a one-hundred year old man and his father. When the son confesses that he had a one-night-stand 70 years ago which resulted in a son, things take a turn, or several turns.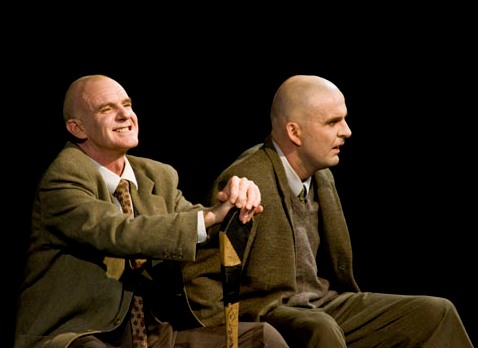 Billy Meleady (Left) and Colin Hamell in "Trad"
The producing Artistic Director Colin Hamell played the lead as a one armed one hundred year old who had a permanent stoop (difficult to maintain for anyone younger.) But Colin didn't "straighten up" for the full eighty minutes. Billy Meady played a very convincing part as the father which involved the very well executed fitting of an artificial leg. and Nancy Carroll played a duel part as a doddering female and a (slightly) less doddering Priest.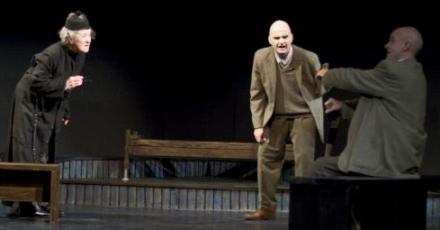 Scene from Trad
One critic described Trad as, "Bold, brilliant, funny with dialogue as rich and thought-provoking as it is frequently hilarious." Trad has been described as, "a fable about tradition in a mad place," and is not to be missed.
A line from Trad struck a cord with me for reasons that I won't go into here. The relationship between father and son was such that when the "Da" started to tell a story the son would interrupt and continue the tale that he had obviously heard hundreds of times. In the end the "Da" felt he had nothing more to live for, "You have all my stories now." It has been said that a story-teller can't afford the luxury of an ordinary life and the above line prompts the question when a storyteller has passed on all his stories what's left?
We visited the Irish Cultural Centre in Canton. . . which was an experience that would bring you back . . .if you weren't too far gone. The football pitch there is bigger than Croke Park. While we were there Dan Hallisey of "The Irish Rambler" radio show interviewed our PRO, John Cassidy who shared his encyclopedic knowledge of all things GAA with the listeners.
John was in much demand by the Boston media. Connell Gallagher, Editor, Irish Emigrant captured him on the Saturday night and as he was about to board a plane for Dublin "famous" Seamus Mulligan WROL 1950, phoned him and did a live phone,15 minute, interview with him.
We met Chris Cassidy, ace reporter with a Boston newspaper. Chris is John's cousin and journalism is in the blood ; their common ancestor, "Big John" was Editor of the Barnasmore Bugle in the latter years of the nineteenth century.
We're back on the old sod. Jet-lag is abating. See you in June.
---
Click on author's byline for bio and list of other works published by Pencil Stubs Online.