John Cassidy, John McGahern et al
John McGahern: Authority and Vision, edited by Željka Doljanin and Máire Doyle, is a volume of essays by a host of literary luminaries on the subject of the great late John McGahern. McGahern had his own differences with the Catholic Church yet his forgiving nature shone through in every situation. Mervyn Bragg sums it up admirably as a result of a television interview with the writer. He says "He carried his own church with him wherever he went."
Roy Foster on
Amongst Women
writes, "How far this reveals McGahern's personal and family experience is worth exploring, and should not be too easily assumed. Denis Sampson's work has shown how deeply Proust affected McGahern's creative development, and the complexities of personal and family relationships are played and re-played through McGahern's work in a closely stitched Proustian pattern, as are the re-creations of memory. From McGahern's own memoir, we know his fascination at learning of his father's IRA past in an official document." from Patrick Gilligan's painstaking work, we know the history of his father, Frank, in the revolutionary struggles, serving under the legendary Seán MacEoin of Ballinalee, and his route into the Garda Síochána as a pro-treaty IRA volunteer. We also know, from Mr Gilligan's work, that the IRA activities of Frank McGahern more closely resembled those of the everyday foot soldiers than the spectacular adventures remembered by Moran and McQuaid."
Paula Meehan, in her excellent piece "Inside McGahern's Workshop" she writes. "If McGahern 's visions are not of the end of the world they are surely of the end of an Ireland of dancehalls and fumbled sex, the end of old decencies and hypocrisies alike."
The Woodpile, in memory of McGahern,
Written in 2016 Paula Meehan

We worked our way through it log by log:
three winters' worth of heat, precious light
through the darkest nights, the darkest days.
You'd remarked you knew the very tree,
that last June you stacked them in the barn –
the silver logs in their fret of moss.
You must have had the news already
whistling from the woodpile's finished height
your arms about your favoured black dog.

Declan Kiberd, in the Afterword says, "In so far as McGahern's characters think about the future, they are often distressed or even depressed about it."
John McGahern: Authority and Vision is a must read. Sixteen essays by great literary figures give us an unprecedented insight into their colleague.
I think it was Freud who said that, " . . . biographical truth is not to be had and even if it ere it couldn't be useful." This publication proves otherwise.
* * * * *
Mickey MacConnell was born during a snowstorm, in Fermanagh, in 1947. He is one of our best known and prolific singer/songwriters. He has penned about 400 songs and he wrote "Only Our Rivers Run Free" in twenty minutes when he was eighteen. He is a journalist who has been married for forty five years.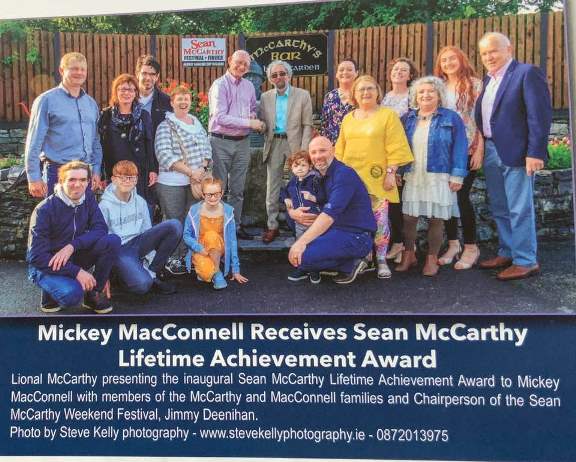 What else can I tell you about Mickey? Well, he has been living in Listowel for decades and this year he received a
Lifetime Achievement Award
at the Sean McCarthy Memorial weekend. Once again the festival was a wonderful success under the Chairmanship of Jimmy Deenihan.
The Winner of The Sean McCarthy Ballad
1. Caroline O Callaghan.___Ardfert___ Scarabhin
2. Sean McGrath.___Galway___The Skibbereen Breeders
3. John Kinsella.___Listowel___The Free Travel.
Winners of Mick McCarthy Story Telling Competition:
1. Marie Gillen.___Cork___Black Opal
2 Sonny Egan.___Lixnaw___The Hay Shed
3. Francis Kennedy.___Listowel___Pedaling Pete.
* * * * *
John Cassidy with his wife Aine, sons Shane and Patrick, their respective partners, Sandra and Illinca and Dublin Lord Mayor.
Sitric Mac Olaf, (nicknamed Silverbeard) whose wife Slaine was a daughter of Brian Borou, founded Christ Church, in Dublin 19 the year 1030, when he was King of the Dublin Norsemen. Why am I telling you this?. Because his descendent Paul John McAuliffe served as Lord Mayor of Dublin since June 2019. It shouldn't surprise anyone that anyone that Paul McAuliffe is in Dublin's Mansion House. Didn't his ancestor Chief of the clan hold forth in Castle McAuliffe which stood on the ancestral lands of the McAuliffe clan on an elevation over the Dalua River valley outside Newmarket in the NW corner of county Cork. And speaking of great houses The Lafranchini brothers, Paul and Philip, originally from Switzerland, are famed today for their work in rococo style stucco, chiefly in the great Palladian houses of Ireland. But the father of Irish ornamental plasterwork was the late Pat McAuliffe from Listowel. He was self- taught and his external embellishments, which include rosettes, swags, flora and fauna, are to be seen in the towns and villages of counties Kerry, Cork and Limerick.
When he retired from Dublin Bus, Donegal man, John Cassidy was presented with a scroll by the aforementioned Lord Mayor in recognition of his services to the city of Dublin.
At the presentation Mayor McAuliffe lavished well deserved praise on John and his achievements over the years. Space doesn't permit me to catalogue John Cassidy's contributions, particularly to public transport and the Gaelic Athletic Association, in his adopted city.
* * * * *
Tadhg Cowhig and Ronan Flood are taking on a 600km cycle from Ireland's most southerly point at Mizen Head all the way to Malin Head in the north.
The lads will depart Mizen Head at 4am on Saturday 14th September under the cover of darkness. They plan to make it to Galway that evening after approximately 12 hours in the saddle. They'll stop in Galway for a brief overnight rest before getting back on the bikes Sunday 15th morning and pushing on to Malin head. They hope to complete the trip before dark.
Tadhg and Ronan have competed in multiple Ironman Endurance events over the years, and this time they would like to help raise some funds for Lacken Community Centre. If you are one of the Lacken diaspora, or even if you're not, go to this link; https://www.gofundme.com/f/tadhg-amp-ronan-cycle-challenge
See you in October.
---
Click on author's byline for bio and list of other works published by Pencil Stubs Online.