A Brief Time with Betty Crocker
Sometime this year, Betty Crocker will be 100 years old. A fictional creature of many faces over the years, she was an enormous influence on my life.

When I was in high school, I won the "Betty Crocker Homemaker of Tomorrow" prize. It was a rather ornate pin (see below) awarded to the student with the highest score on a written test for knowledge of homemaking skills. I was pleased and put it on my letter sweater to show it off. Betty Crocker was as distant as the moon so far as I knew, but Betty and I were destined to meet.

In 1967 I finished the classwork for a Master of Public Health Nutrition degree. My long-term goal was to become a Registered Dietitian. (I finally completed the requirements and passed the exam in 1974.) A classmate told me that General Mills was looking for a nutritionist. I decided to apply. I remember vividly that I wore a neatly pressed white dress and immaculate white gloves. The gloves must have done the trick, as I got the job.

It was an interesting point in time. Women were new in the corporate workplace with the exception of secretaries and the home economists who developed recipes in the seven kitchens. Each kitchen was dedicated to a purpose or product line. There was a photography kitchen, a cake kitchen, a flour kitchen, and so on. It was fascinating to find that a minimum of 12 cakes was required for a product shoot. One for the cake, one for the cut slice. No air bubbles in either. There were stand-ins for arranging the lighting and positioning and the ones for the actual photograph. It was tedious, meticulous work. I was glad it wasn't part of my job.

Marketing was reserved for males and they were graduates of Ivy League colleges and Stanford. I don't recall any from a state school. They arrived prepared to do only two jobs – president or CEO. It was in informal policy to assign them to menial tasks like photocopying and delivering messages to bring them back to earth. Soon women began infiltrating the ranks and things began to change. One is now a Senator from Minnesota.

As it happened, my first task was a little unusual. The company was entertaining food editors from across the country at a fancy place in Chicago. The purpose was to introduce them to new products and, of course, have a positive view of them. My boss asked me to look up the ignition point of cotton balls. (400 degrees F.) This took a little time as it was long before the days of Google. It seems that models were hired to carry various products from table to table and an ordinary pie was too heavy. Thus, the pie was to be made with lightweight cotton and presented in a delicious-looking double crust.

The second assignment was very exciting. I was to go on the company plane and host a table at the dinner. It was quite an experience. I buckled in the small jet with a boxed cotton pie on my lap that I was to guard with my life to prevent damage. There was no room for it in the plane's storage as those shelves were filled with liquor and wines for the dinner.

Ah, the dinner. Sadly, I don't remember the many course menu, but a couple of things stood out. I was asked about one of the appetizer ingredients. It was something I had never seen in my life. I think it was an artichoke bottom, but no one had coached me about exotic ingredients, so I nodded and smiled and said "Yes, it is interesting". One of the editors passed out with her head in a plate. I saw that she was in no danger and let her sleep. Another slurred her thanks to "The Admiral." It was a shocking entrance to big city life for this hillbilly girl.

My orientation required that I go through the training procedures required for each home economist hired. The three-person Nutrition Department was located in the kitchen area and since part of my new job was to develop recipes for special diets, I needed to know how to do so properly. My boss was a brilliant woman who bore an uncanny resemblance to Betty Crocker portrait number 4. She was one of the most brilliant, organized, and disciplined people I ever met. I look back and think what a trial I was for her at times with some of my off-the-wall ideas.
See portrait number 4 at bottom of page.





The Nutrition Department was created to protect the company from false claims in advertising and promotion. We reported to the Company Medical Department, not marketing to maintain our independence in judgment. A major part of my job was to research and write papers and pamphlets that emphasized the nutritional value of products and where they could be used in special diets as well as daily meals. To accomplish this mission, we took an exhibit booth to several medical and dietetic conventions each year. These travels were very educational for me. I will always be grateful for the opportunities I was given to learn and advance my professional career.

Part of the initial training was to bake cookies using each of the seven varieties of flour the company made. Determined to be efficient, I lined up the bowls and added ingredients to each. I had never seen self-rising flour, so I added leavening to each batch. The inevitable happened – my cookies blew up all over the oven. I was embarrassed and spent the rest of the afternoon cleaning the oven.

Cooking in the kitchens was a sheer pleasure. In addition to having someone do the shopping for ingredients and storing them, a housekeeper was always available to wash the utensils and keep the kitchen tidy. If you needed a lot of measuring cups, there was always a clean one ready to use. The downside was that one side of each kitchen was open for two purposes - twice a day food tasting panels and frequent tours of the public led by smartly uniformed guides. The image of Betty Crocker as a professional, proper lady and cook was always in our minds. Once my hot pad slipped on a cookie sheet burning my fingers. I put the pan down carefully and dashed out the back door of the kitchen to nurse my wounds. Betty wouldn't make such a stupid mistake.

I did develop recipes for dialysis patients who required a very low protein diet at the time. For many years, General Mills had manufactured a wheat starch product with the odd name of Paygel-P. It previously had two purposes – an ingredient in salad dressing and as a filler in oil well shafts. An enterprising doctor found that it might be useful in special diets and we had a working relationship with the Mayo Clinic and Emory University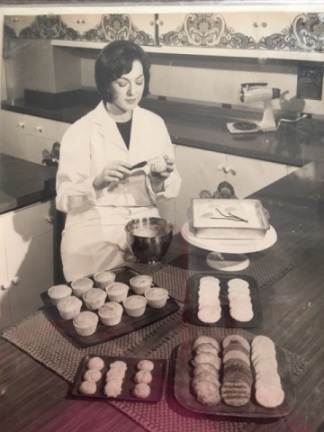 Marilyn at the Betty Crocker lab
developing low protein recipes.
to develop foods that were more familiar than the gummy ones made with rice or potato starch. (photo).

I worked seven years at General Mills, but Betty and I parted daily company after three years. I became part of a venture team to establish a new business model and later became one of the first women to work in quality assurance; an area that previously had been staffed only by men. All of my jobs were rewarding, and I consider General Mills the best place I ever worked, but those stories are for another time.
---
Click on author's byline for bio and list of other works published by Pencil Stubs Online.
---