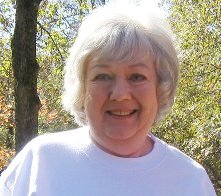 Summer in Minnesota
It is summer once again in Minnesota. It's all too brief existence is a time of exuberant outdoor activities. I live next to a hiking-biking trail so I witness the increased movement in the neighborhood when I sit at my desk. The trail was constructed on an old rail line. On the other side is a city park adapted from the previous use – a football field. Through the French doors in my office, I can see part of the park in the winter when the leaves are gone, but in the summer, I live in a leafy bower and can pretend I am back in a rural country environment like my beloved McDonald County, Missouri.

Yet, I can't forget I am in the city because I often hear the distant cheers from a hard-fought baseball or soccer game or the hourly carillon of hymns from the Catholic church two blocks away.

Hopkins is not a typical bedroom community. It is a small-town established long before Minneapolis residents sprawled west to create many suburban municipalities. Originally its growth was fueled by the presence of the Minneapolis Moline tractor company, and was originally populated by a large Czech community of farmers. At one time it claimed to be the Raspberry Capital of the World. After World War II the demand for housing meant the loss of raspberry fields and very few vines can be found today. Still every July there is an enthusiastic celebration of past glory with a Raspberry Festival and a well-attended parade.

Hopkins was once derided by snooty neighbors as a place of "cars and bars" due to the plethora of car dealers and places of refreshment. There are still several auto sales businesses and a drink can be found only a short distance from any location in the city, but it is now quite respectable and quiet – Pleasantville personified.

The city works to preserve its image as a good place to live and like most communities in Minnesota, provides ample amenities that justify high taxes. As a former mayor, I appreciate living in a place that supports a way of life that is safe, provides good schools, continuing education, and recreational opportunities. If you call 911, a responder will be at your door within 5 minutes. That is a great comfort, especially to older residents.

One of the best features of the city is the "Hopkins Academy". A five-week program free to all residents, especially new ones. Participants spend a couple of hours each week with a department of city management – police, fire, planning, utilities, and the City Council and Mayor. It is a great way to orient a new resident to community services and, yes, you get a tee-shirt at the end.

Summer will speed by all too swiftly and fewer people will be on the trail in winter, but it is busy all year long. The bikers put on snow tires and the walkers don boots that ease walking in snow and ice.

Minnesotans embrace their climate and care deeply about the environment we live in. After living here eleven years, I have finally come to accept and applaud the amenities Minnesota offers.
---
Click on author's byline for bio and list of other works published by Pencil Stubs Online.
---