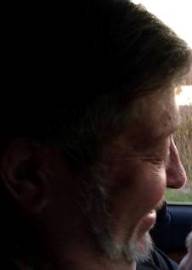 By Rod Cohenour
A recent visit to the good old doc resulted in a change in diet for my sweet wife. A new med and a new direction - high protein, and in his words no carb. That translates to only complex carbs, no sweets, and no starchy foods. A great diet but it can get tiresome, only meat and broccoli or cauliflower or similar green veggies. How do I change it up and keep my sweet wife happy? Salads, that's how I'll do it.
Salads are always a wonderful treat. This is one of my favorites. Well, folks, here's one I guarantee you will love! A wonderful blend of perfectly prepared chicken, crisp apple, tasty pecans, a tart, dried fruit, and a wonderful mix of greens.
Bon appetit ~!
Cran-Apple Pecan Chicken Salad
Ingredients, for one person:
1 boneless skinless chicken breast per person. Broil your own or use prepared rotisserie chicken, leftover chicken from the fridge, or even canned chicken cubes (although this last is inferior in my estimation.)
1 cup Spring greens (remove any tough stems)
1/2 cup iceberg lettuce, chopped medium
1 crisp apple (Red Delicious is perfect), cored, sliced into thin slices, not peeled)
1/3 cup dried cranberries (may substitute dried cherries or similar tart dried fruit for the craisins, just watch the sugar content)
1/2 cup pecan pieces
1 Roma tomato sliced or cherry tomatoes cut in half
1/4 small purple onions, diced or 2 green onions, bulb, and green sliced.
1/3 cup grated Cheddar-Monterey Cheese blend
Dressing (see suggestions below)
Instructions:
1. Prepare chicken breast. Wash, rinse, and pat dry. Season as desired. I prefer ground black pepper, scant garlic powder, Italian seasoning, and Mrs. Dash. Lower oven shelf to a middle rack to permit chicken to cook through without burning. Broil the inner side of the breast first, just until evenly golden brown. Turn to cook the rounded outer side of the breast. Season and broil until the juice from breast meat runs clear and the meat is no longer pink. Turn as many times as necessary to permit the chicken to cook through without getting too crisp.
Remove, let cool slightly before slicing.
2. Toss together iceberg lettuce and Spring greens. Use as a bed for salad.
3. Toss together craisins, apples, tomatoes, pecans, onions, and cheese. Mix gently with Spring greens and Iceberg lettuce.
4. Arrange slices of broiled chicken on top of the salad. Serve with a choice of low-carb dressings, suggested are a Skinnygirl Balsamic dressing with parmesan cheese OR an Avocado Ranch.
Alternative: Creamy Cran-Apple Chicken Pecan Salad
We enjoy a little twist on this basic recipe. Instead of mixing the greens and lettuce with the other ingredients, prepare as a bed for a creamy chicken salad. Return to fridge to chill.
Cube the cooled chicken. Add one cup Vanilla plain or Greek yogurt with a Tablespoon of lemon juice and a half teaspoon ground cinnamon to the remaining ingredients (fruit, chicken, nut, tomato, onion and OMIT THE CHEESE). Chill this chicken mixture for about an hour to allow flavors to blend. Serve over greens and lettuce, also chilled.
---
Click on author's byline for bio and list of other works published by Pencil Stubs Online.
---