By Bud Lemire
I took a trip to Mackinac Island, near the end of September
With friends by my side, it was a day I'll always remember
On a Gold Star Tours bus, Senior Companions and Foster Grandparents were there
Across the Upper Peninsula of Michigan, and St. Ignace is where

We took the Shepler's Ferry, to the island on this day
We went by the Mackinac Bridge, raindrops all the way
I got some pictures through the windows, oh what a ride
From Lake Michigan to Lake Huron, with the Ferry as our guide

Upon docking, we were led to a place where we would eat
Mary's Bistro, as we watched the horses trot by on Main Street
Inside I sat at a table, and there I made a new friend
Appetizers kept coming, I thought they'd never end

My friend tagged along, as we went to May's for some fudge
It rained on and off this day, and there was only horse sludge
Then we searched for the place, that would pinch our penny
It was hard to find, because the stores there were so many

We got our pennies pinched into the Mackinac Bridge, it was neat
Then my friend got sick, and she had to stay off her feet
I walked around, taking pictures of course
On every street I walked down, there was a horse

Marquette Park, outside the Fort, and a shop to buy a shirt
I had way too many shirts already, but one more couldn't hurt
It was time to catch the Ferry to St. Ignace, and head on home
I sure had a great time, but I'm glad I didn't do this alone
Some weekend in the future, on a warm summer day
I'll go back to the Island, for a day or two I'll stay
©Sept. 28, 2022 Bud Lemire
Author Note:

I didn't know going to Mackinac Island was on my Bucket List,
because I didn't have a Bucket. But when it was offered to go,
I had a Bucket and a List. Even though we didn't have much
time there, to do everything I wanted to, it just means I need
to go back and do some more. It's a great place to visit.
I am so glad I went!.
---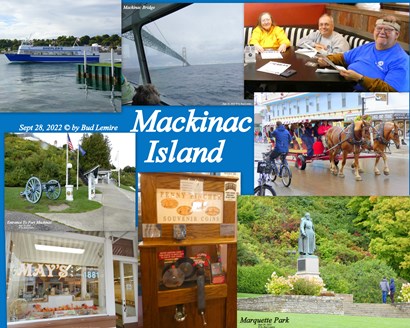 Click on author's byline for bio and list of other works published by Pencil Stubs Online.
---