By Bud Lemire
I looked at hair, many different colors were seen
Some so bright, and I saw many shades of green
As I looked, I saw on top of their head
A beautiful shade, of the color red
Purple hair, can sure look nice
"The right shade" is my advice
Then there is orange, with such an appeal
Colorful hair, can almost seem so unreal
Have you ever seen someone, with hair of bright blue?
I often wonder, what color would you choose to do?
Yellow is a color, yet it reminds me of yarn
It's all in what you like, it doesn't do any harm
Ever since I've seen hair colored, and it's only fair
I always thought, I should have rainbow hair
Rainbows are lucky, I like all colors I see
It seems only natural, that it would be for me
I'd have all the colors, all across my head
Just think how I'd look, when I go to bed
It's fun to think of the colors, that could be in your hair
I think about rainbows, because they take me everywhere

©Sept. 05, 2022 Bud Lemire
Author Note:

As I see more people with colored hair, I asked if there is
a meaning to each color they choose. They often tell me
that is all about what they feel like having the color.
Something new to try out to see how it looks on them.
Some shades of colors don't really look good on people.
Yet other times some look pretty good. I see a lot of
colorful people, well, at least their hair is. else.
---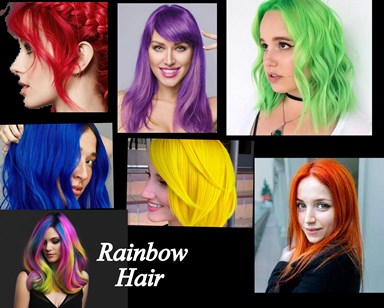 Click on author's byline for bio and list of other works published by Pencil Stubs Online.

---