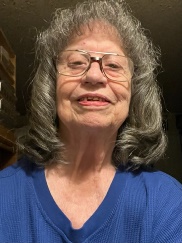 January 2023
"An optimist stays up until midnight to see the New Year in.
A pessimist stays up to make sure the old year leaves."
—William E. Vaughan

Welcoming the month of January and hoping its weather will be as agreeable as it is in the last day of the Old Year. Not everyone will be out celebrating and one must hope that those who are out remain safe. The television offers views of celebrations worldwide and all the fireworks one could ever desire. Back when this century began with a New Year, your editor and Leo C. Helmer, hubby and cooking columnist for this eZine, watched the celebration including extrordinary Fireworks displays in St Louis, Missouri. May yours be as spectacular and satisfying as you desire and incidentally, Happy New Year to each of you.

We are pleased to share with our readers two season-themed poems gleaned from past issues by John Blair, "Taking The Sun in January" and "This Is January." His work is always welcome. Bud Lemire shares the fantasy poem "Alien Christmas," "Once Again Whole," and "The Power To Be." "Tomorrow's A New Year," "About New Year's Eve," and."More Christmas Rambling," are from Walt Perryman. Linnie Jane Burks' treasured poems are "The Old Year Dieth Soon" and "My Resolution--A New Year--1986." Bruce Clifford adds "Letting Go Is Not Something I Know" and "Not Knocking on Your World."

In "A Mother's Lessons" by Danielle Cote Serar, she admits to being shocked and saddened as well as surprised at the self-demise of the popular dancer "Hitch." She continues with thoughts about detecting and treating depression. "On Trek" by Judith Kroll, encourages everyone to make caring changes in their lives, regarding getting closer to nature.

"Introspective" by Thomas O'Neill, fills us in on his teaching role at a new school, also in China, and some of the problems because of ongoing isolation rules. "Irish Eyes" is where our Dublin based Mattie Lennon reminisces about his favorite Christmas ever, when he was 11. He returns to his adult observations by encouraging people to catch a popular podcast, certainly such as was totally lacking when he was a youth.

"Sifoddling Along," is by Marilyn Carnell, who is hopeful everyone can effect "A Fresh Start" in the New Year, as discussed in her column.. "Woo Woo," by Pauline Evanosky, asks and answers the query "Who Am I Talking to When I Talk to Spirit?"

"Cooking with Rod" Roderick Cohenour's column is offered via dictation from the hospitalized author, with wife Melinda Cohenour aptly filling in as secretary to present a Holiday special dessert. Prayers surely welcome for Rod. Meanwhile, his wife Melinda Cohenour has included an update on his condition in her column "Armchair Genealogy."

Walt Perryman is also the author of the continuing tale that reveals the compositions titled "Honey Dog Tales." Chapter Five is in this issue for our readers to enjoy!

We continue to thank our co-founder and webmaster, Mike Craner, whose knowlege and expertise keeps Pencil Stubs Online actually online. He does it well as we are now in our 25th year. Happy New Year, Susie and Mike!

Look for us in February 2023.
---
Click on author's byline for bio and list of other works published by Pencil Stubs Online.
---