By Bud Lemire
We were taking a trip to Mackinac Island, and an overnight stay
Thanks to the Senior Companions and Foster Grandparents, we could get away
Off to the Island, of the bike and the horse
I'd be bringing my camera, of course
A three hour ride on the bus, to take us there
Then we took Shepler's Ferry, to Mackinac Island is where
We left our luggage, at the Hotel where we'd stay
Had lunch at Mary's Bistro, which was a start to our day

I rented a bike from a Bike Shop, and went for a ride
Looking for the Secret Garden, now where could it hide
I found it by the Grand Hotel, it was among some trees
Then I rode the bike, to the next place with ease
Fort Mackinac, was the next place I'd go
Up the many stairs, I took it very slow
Met some soldiers, dressed up like long ago
Chatted with them, after I said hello

My next stop, was the Butterfly House
I quietly entered, just like a mouse
A big blue butterfly, was flying around
Butterflies were flying, close to the ground
Something was running around quickly, all over the ground
I was told it was a button quail, that was running around
Off to the next place, which was the Arch Rock
I took a roadside picture, I didn't need to use my lock

Then to the Chippewa Hotel, where I would stay
There was a mix up, but it turned out okay
I checked out my room, and had to smile
Then I went shopping, for a little while
Dropped off the stuff, then walked down main street to the west
Caught the sunset, past the Hotel Iroquois was the best
You could see the Mackinac Bridge, in the picture I took
It was a beautiful night, I had fun taking a walk and a look

I had Salmon at the Pink Pony, for a supper time meal
I really enjoyed it, for the price it's a great deal
Myk Rise was playing, all the songs that we know
I took a walk down Main street, taking pictures to show
A bride to be was drunk, but happy as could be
She posed for a picture, it brought back a memory I sat and visited with Connie and Kat, at the Pink Pony for awhile
Then I went to my room, because I couldn't walk another mile

The next morning, I was up early to catch the sunrise
It wasn't too bad at all, it was more of a surprise
Then I walked to the East, taking pictures on the way
What a wonderful start it was, to another great day
Packed up and checked out of my room, returning the key
Had Breakfast with Terry and Linda, blueberry pancakes for me Headed back to Shepler's Ferry, with our luggage in hand
We had a really great time, in fact you could say it was grand
©Aug 30, 2023 Bud Lemire
Author Note:
I had so much fun on this trip to Mackinac Island. I was able to fill
several things on my bucket list (Renting a bike, finding the Secret
Garden, seeing Fort Mackinac, going in The Butterfly House, and
taking a picture and seeing The Arch Rock, riding on top of the
Ferry on the way back). I made my time count!I took many pictures
(500), and had the time of my life.
---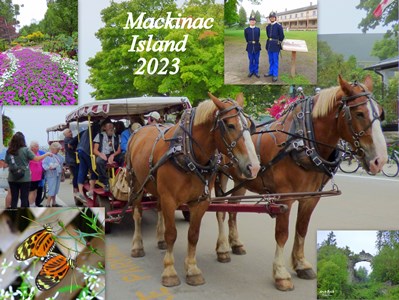 Click on the author's byline for bio and list of other works published by Pencil Stubs Online.
This issue appears in the ezine at www.pencilstubs.com and also in the blog www.pencilstubs.net with the capability of adding comments at the latter.
---