Clara Barton
Clarissa Harlowe "Clara" Barton (1821-1912) has earned a place in history as the angel of Civil War battlefields and founder of the American Red Cross. Born in a farming community in Massachusetts to an abolitionist family prominent in the local Universalist church, from an early age Clara knew about nursing because her mother and older sister were chronically ill. Then at 11 years of age she got the job of nursing her severely injured brother for two years. (He fully recovered.)
In her late teens she was put to teaching school, with 40 boys and girls, some not much younger than she. Clara taught in Massachusetts for 10 years. Later she started a free school in New Jersey, but left after a male supervisor was brought in, at twice her pay, to run the school.
She went to Washington, D.C., and became the first woman clerk in the Patent Office. This time she was paid the same as a man. Ultimately, however, she lost the job due to illness, overwork, and a change in administrations and went home to Massachusetts. On Lincoln's election, she returned to the Patent Office, again in a trusted position. But on April 19, 1861, she was given the opportunity to care for some wounded Massachusetts troops. Following that experience she began obtaining supplies for soldiers, overseeing their packing and distribution.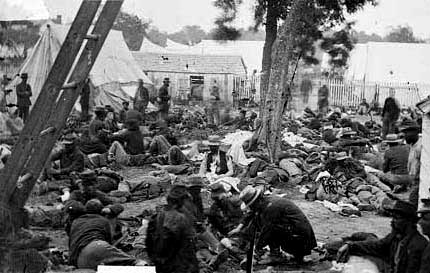 Field hospital at Savage Station after battle of June 27, 1862.
By summer she got a pass to take 6 wagons of supplies to a battlefield in Virginia where she worked among the wounded for 48 hours with no sleep or food. Later she worked on battlefields throughout the eastern front. Many other women were doing similar work at the time, but Barton is believed to have been the first one with official government approval. Later in the war, after a hiatus due to ill health and resistance from authorities to women on the battlefield, Barton returned to work at the front in Virginia., both in hospitals and in the field. Ultimately she served on a dozen of the bloodiest battlefields of the war.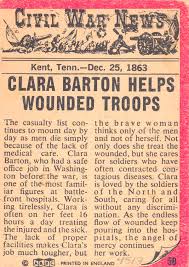 Headlined News Story
Headlined News Story
After the war, Lincoln put Barton in charge of locating missing prisoners of war, at which she was very effective, locating (and usually burying) a fourth of those listed as missing. In 1866, Barton began a speaking tour about her experiences, then joined the growing woman suffrage movement. She also worked for passage of the Fifteenth Amendment (suffrage for Negro men). But from 1870 onward her primary effort was working with the International Red Cross movement.
After a long period of ill health, in 1877 Barton began lobbying the US Government and ultimately, in 1881, succeeded in getting federal support for an American Red Cross. It was her idea that the Red Cross provide relief for natural disasters as well as during wars. Barton worked for two more decades to keep the American Red Cross alive and part of the relief efforts for such disasters as the Johnstown flood, the Sea Island and Galveston hurricanes, and various yellow fever outbreaks. There were many problems, and Barton was not always effective in her work; but the movement survived.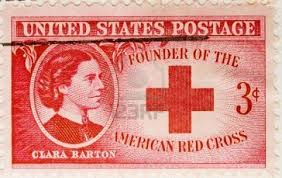 Recognized by Postage Stamp
Although Barton gave up the Red Cross presidency in 1904, she continued attending suffrage conventions and veterans' encampments until her death of pneumonia in 1912 at the age of 90.
Researched and compiled by John I. Blair
---
Click on John I. Blair for bio and list of other works published by Pencil Stubs Online.Pictured below: Clara Barton (title: wcb Brady)
---