Robert Lawson Shaw
Robert Lawson Shaw spent a lifetime in music. He founded the Robert Shaw Chorale, the Collegiate Chorale, the Cleveland Orchestra Chorus and the Atlanta Symphony Orchestra Chorus. His love of music was nurtured in a California parsonage (his family was known as "the Singing Shaws") and in the church (three generations of Shaws and Lawsons were chaplains, ministers or missionaries). Shaw studied comparative religion, philosophy and English literature at Pomona College with the intention of following his father into the pulpit. But at age 22, with little prior experience, he accepted an offer from Fred Waring to form a glee club for a new radio series.
Although many people think of Shaw primarily as a choral and orchestral conductor, he might better be considered a minister of music, for he ministered and brought a message through his music to musicians and laypeople. He long worked to overcome the separation of art and religion, giving numerous addresses on the importance and interrelation of worship and the arts. On the nature of worship, one of Shaw's frequent themes, he made three points. First, for worship to occur, there must be a sense of mystery and an admission of pain. A second characteristic of worship for Shaw was that it is communal. Shaw cited Martin Buber: "Man finds his being and his relationship to the other . . . which some call God, only when he is confronted with and responsive to another human being — a thou." Third, according to Shaw, worship has a "formal and ritualistic basis." Our coming together with regular frequency helps us better understand one another and our relationship to God.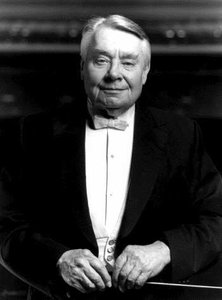 Robert Shaw
In 1960, while associate director of the Cleveland Symphony Orchestra, Shaw was installed as minister of music — at no salary — at the First Unitarian (Unitarian Universalist) Church of Cleveland. In his inaugural sermon, "Music and Worship in the Liberal Church," he spoke of the responsibilities of the arts to the church, saying that only the best is good enough. Otherwise, "God is only mocked, not worshiped." He cited four elements that are part of worshipful music. The first is the motivation of the participants. A second element of music for worship is craftsmanship. Shaw's third criterion was that music have a historical perspective, which is "close to what we mean by 'style.' " Shaw's final criterion was the possibility of the music's being the "creative miracle of revelation." "The higher consciousness of the great artist," Shaw explained, "is evidenced not only by his capacity for ordering his experience but also by having his experience."
"Art exists to convey that which cannot be otherwise conveyed," said Shaw. He wanted, he said, to create each Sunday morning "out of worthy things, a wholeness of beauty and truth, an integrity of sound and sight and reason, which shall be its own reason for being here." The arts help us express and communicate ideas in a way not possible through words. The feeling and intensity expressed in a piece of music may be remembered long after the sermon is forgotten. The arts are the hand of humanity reaching out to others in a world of persecution, indifference and terror. The arts can set us free, unlike our technological, image-making society, which seeks to control us. "The arts may be not the luxury of the few, but the last, best hope of humanity to inhabit with joy this planet," said Shaw, who sometimes referred to the liberal arts as the "conservative" arts because they are the things that really "conserve" us. It is the nature of music, unlike painting and most of literature, that its final creation is not its original creation. Music needs to be sounded, to be sung. In this sense, the composer literally must leave his work to be finished by others.
An uncompromising conductor who lifted up the highest musical standards for orchestra and chorus, Shaw, with his visceral yet sensitive conducting style, inspired his musicians to attain his goals. "People, this just has to happen!" he prodded. He balanced his meticulous score preparation and rehearsal demands with a boundless childlike enthusiasm and contagious joy for each new work. Shaw's life was interwoven into the developments of American music for over half a century, and his influence on choral music will be felt for decades. Because of his teaching, the music life in the cities where he worked is healthy and strong. Those who direct their own choirs came away from singing in Shaw's choruses with renewed enthusiasm and the tools for teaching rhythm, pronunciation and tonal sonority.
Shaw occupied the most prestigious podiums in the country while being painfully aware of the sorrow, tragedy and racial divisions in our society. "We believe," he once wrote, "that in a world of political, economic and personal disintegrations, music is not a luxury but a necessity . . . because it is the persistent focus of man's intelligence, aspiration and good will." A minister of music to all people, Shaw maintained that the church has a responsibility to the arts. In an October 1987 address to Fourth Presbyterian Church in Chicago on "Worship and the Arts," Shaw commented that in a world beset with a multitude of problems, "the arts may provide the day-by-day confirmation of Creation's finger still at work in the lives and affairs of men . . . the church, if it wants to keep in touch with the Creator, must provide a home for all that is and all who are created, lest the church itself wither and drift into irrelevance."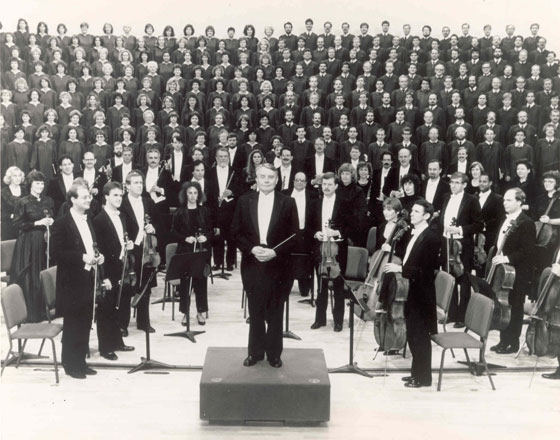 Full Orchestra
Adapted from an article by Gretchen E. Ziegenhals that first appeared in the Christian Century, March 22-29, 1989, p. 311. That article is copyrighted by the Christian Century Foundation.
Researched and compiled by John I. Blair
---
Click on John I. Blair for bio and list of other works published by Pencil Stubs Online.