A Nose That Knows
"Those who in quarrels interpose
Must oft wipe a bloody nose" -- John Gay.
With all due respect to Mr Gay one doesn't have to indulge in pugnacious behaviour to get an injured snout. My mugshot at the top of the page is slightly out of date. I have now less hair and more jowls and I'm wearing spectacles full time. But one thing hasn't changed; my olfactory organ still has a Grecian bend.
A battered beak is synonymous with toughness.
I wasn't ever tough.
Some sports have an intimate relationship with the power of the broken nose. I have absolutely no interest in any sport. I didn't acquire my nasal fracture through walking into a wall, falling down, or being hit accidently. No. It happened in Blessington more than fifty years ago when a civic-minded man, named Sean Tyrrell, head-butted me on the grounds that I had been using un- parliamentary language in the company of females. I didn't wish the man any harm but I'd be a total eejit to forget the incident.
When I'm asked "what happened your hooter?" I don't have as interesting a story as the man who walked into the doctors surgery with a broken nose, black eye, and a dislocated jaw. Doctor asks "Jesus Christ, what the f* happened to you?"
"I sneezed", replied the man.
"A sneeze?! How can you get a disfigured face by a simple sneeze?" asks the doctor.
The man replies "Turns out a simple sneeze while hiding naked in the neighbour's wife's closet when her husband comes home early from boxing practice can do that to you."
There have been many famous broken noses down the centuries. Michelangelo met his own Sean Tyrrell in the person of a young man named Torrigiano, who was jealous of Michelangelo's talent and taunted him. When Michelangelo answered, Torrigiano punched him in the face and left him with a permanently misshapen broken nose.
I have it on good authority that Leo DiCaprio didn't break Daniel Day Lewis's nose when filming Gangs of New York. It would appear that my fellow (honoury) Wicklow man acquired the crooked nose when he head-butted a sandbag or something similar.
I have, over the years, been at the receiving end of comments about the shape of my most prominent facial feature but to date nobody has quoted
"A nose, kind sir! Sure, Mother Nature, With all her freaks, ne'er formed this feature. If such were mine, I'd try and trade it, And swear the gods had never made it,"
for my benefit.
Crissy Milaggo has this to say:
"Human beings are curious, observant, and compelled to communicate with one another about their surroundings: all things that make for rude commentary, which is a skill that many human beings seem to pride themselves in honing. For those of us with ~distinct~ features, this commentary is normally geared to pointing out the obvious. It is obvious that my nose is crooked, that I broke it juuuuust a teensy bit, in such a way that it did not demand correction."
One commentator said of Sarah Jessica Parker that she
" . . . just looks better in certain angles than others."
When asked the cause of my misshapen proboscis I could, of course always say that a calf's head collided with me, that I walked into a door or that it was a deformity from stage two congenital syphilis. Any of the above would be a lie. Besides I wouldn't want to deprive Sean Tyrrell of the kudos of his handywork.
---
Click on author's byline for bio and list of other works published by Pencil Stubs Online.
Below: The Honourary Wicklow man, Daniel Day Lewis
---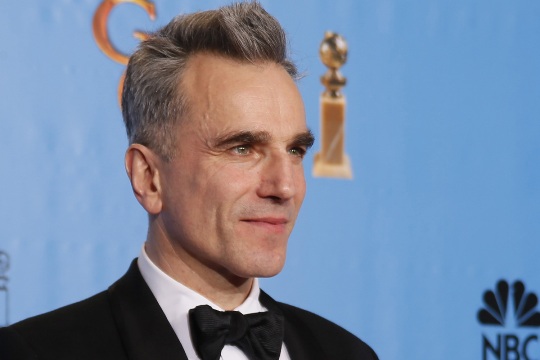 Refer a friend to this Column