Puerco Rodrigo
Ole! It's a New Year! A new decade! Time to spice up our lives. I'm combining some of my favorite recipes using one of my favorite meats to create a Fiesta for your mouth (and soul). These are quick and easy. Guaranteed to please.

The complete dish combines the chops, rice, queso and pico de gallo. For convenience of preparation, the recipes are listed separately.

Bon appetit~!
Puerco Rodrigo
Ingredients:
* 2 lbs boneless pork loin chops, cut about 1/2" thick
* 2 Tbsp. Cumin
* 2 Tbsp. Chile Powder
* 1 tsp. Oregano
* 1 tsp. Garlic Powder
* Dash ground black pepper
Instructions:
1. Rinse chops to remove any bone meal. Set aside. Prepare Pico de Gallo and the Salsa Crema and place both in fridge to permit flavors to blend (see separate recipes above).
2. Mix all spices together, using a whisk or fork to blend well.
3. Using your clean hands, rub spice mixture over all surfaces of each chop.
4. Broil on center rack (to permit chops to cook through without burning) until meat develops a nice, rich brown color. Turn, return pan to broiler.
5. While meat is broiling, proceed to steam Cilantro-Lime Rice.
6. Prepare Queso Rodrigo per separate recipe. Keep warm.
To serve:
Place generous serving of rice on each plate. Top with broiled loin chop. Ladle Queso Rodrigo over each chop and rice. Drizzle each dish with Salsa Crema. Top with Pico de Gallo.(See finished dish at bottom of page.)
Provide warm flour tortillas, crisp tostados, extra Queso Rodrigo, Salsa Crema, crisp cold radishes, sliced avocado, and grated cheddar or Mexican blend cheese as optional toppings.
Delicious served with a cold drink such as iced tea or fresh lemonade.
| | |
| --- | --- |
| Ready to cook | |
Pico de Gallo a la M
Ingredients:
* 1 ripe, firm fleshed tomato, diced
* 1 medium bell pepper, seeded and diced ( try to make all diced ingredients - except chile pepper - about the same size)
* 1 medium white onion, diced
* 1 serrano or jalapeno pepper, seeded, stemmed, and minced
* 1/2 cup fresh cilantro leaves, stems removed, leaves gently chopped
* 1 Tbsp. Lime juice
Instructions:
1. Prepare all veggies, adding to a medium sized bowl. Reserve a few sprigs of cilantro to use as garnish for portion served as a side dish.
2. Add lime juice.
3. Stir gently.
4. Cover and chill to permit flavors to blend.
Queso Rodrigo
Ingredients:
* 2 cans Cream of Cheddar soup
* 1 can Cream of Chicken soup
* 1 (4.5 oz.) can chopped green chiles, drained
* 1 serrano or jalapeno pepper, stemmed, seeded, diced fine
* 1/2 small onion, diced
* 1/4 cup roasted pimiento pepper, drained and diced fine
* 2 Tbsp. Corn or vegetable oil (do not use olive oil for this recipe)
* 1/2 brick cream cheese, softened
* 2 Tbsp. Chunky salsa
Instructions:
1. Whisk together soups and green chiles. Set aside.
2. Assemble diced onion and chile pepper, reserving roasted pimiento pepper.
3. Heat oil in skillet. Add onion and chile pepper. Stir and braise until onion is transparent. A touch of carmelization is okay but show restraint. A little is plenty.
4. Stir in soup mixture. Heat through while stirring to prevent scorching. Add cream cheese and continue stirring.
5. Add chunky salsa, continue stirring until heated through.
6. Cover and keep warm while preparing dishes.
Cilantro-Lime Rice
Ingredients:
• 8 cups chicken broth (add water, if necessary, to broth to make an even 8 cups)
• 4 cups white long-grain rice
•1/4 cup Lime juice (best to use the little lime filled with juice found in the Produce Departmen.)
• 1 bunch Cilantro, washed, dried, bulk of stems cut off and leaves and top stems chopped roughly.
Instructions:
Prepare rice per manufacturer's instructions (usually heat broth/water to boiling, add rice, stir, lower heat, cook about 5 minutes.) Turn heat off and permit to sit for 30 minutes, until liquid is absorbed and rice is cooked tender. Add lime juice and a goodly amount of the cilantro (to taste).
Prepare after pork is cooked through and resting and just before queso is ready to serve.
Use this rice as the base for the chops. Drizzle queso over chops and rice, top with the fresh pico de gallo.
Salsa Crema
Ingredients:
* 1 Cup sour cream
* 3 Tbsp. Chunky salsa (Pace makes a tasty salsa, but feel free to use the brand of your choice, even homemade.)
* 1/4 cup diced fresh tomato
Instructions:
1. Whisk together sour cream and salsa. Add diced tomato, folding in gently.
2. Cover.
3. Chill to blend.
A nice crisp salad of mixed greens, tomatoes, bell peppers, avocado, and green onion (use white and green both) is a welcome side. Salsa Crema drizzled over as a topping is delightful.
---
Click on author's byline for bio and list of other works published by Pencil Stubs Online.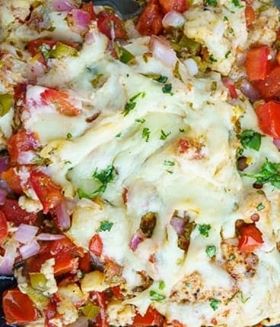 Finished Dish: Puerco Rodrigo