By Bud Lemire
While there are people dying
There are others who are crying
Some are still trying
Others are just lying


"We don't believe in them" is what they say
While there are many living in fear, every day
Some go around, unchanged by it all
They believe, they won't be the ones to fall


"If it was contained only within, it would be your choice"
"But it affects everyone around you" says one voice
Taking all the precautions, may not be enough
People who have had it, had it really rough


Many have passed away, some that I knew
I'd hate to see this happen, especially to you
I'm still having long term effects from it, you see
This anxiety is stopping me, from all that I can be


They're even rewarding those, who will get the vaccine
The Covid virus is a threat, to every human being
If you prefer life over death, it's time to take action
So you can appreciate your life, with greater satisfaction
©Aug. 3, 2021 Bud Lemire
Author Note:

For those who haven't had the vaccine yet, it's time to
wise up. You say you don't know what they put in it?!
Well, you eat many foods, and let me tell you, you don't
know what's in it either. You get the Flu shot, and that
helps you too. There is a country where everyone was
vaccinated, and that totally eliminated the threat. With
your help being vaccinated, you will have done your
job as a citizen of this beautiful country. Oh sure, it
is your choice. But the better choice, makes you a
better and much wiser person. Be wise! Get vaccinated!.
---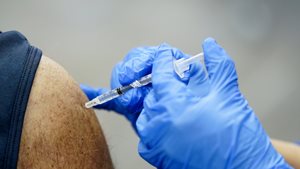 Click on author's byline for bio and list of other works published by Pencil Stubs Online.
---