By Rod Cohenour
You have all seen me share various recipes by my darling wife; but she and I are not the only ones in our family who can cook. Our daughter Melissa is a good cook in her own right and this month I prevailed upon her to provide a recipe that I particularly like. Mexican food, of course!
This is Melissa's take on one of my favorite recipes in the world: green chile chicken enchiladas. Thank you, sweetheart! And, why is it called Gemma's Green Chile Chicken Enchiladas? Because her grandbabies call her Gemma!
Bon appetite~!
Gemma's Green Chile Chicken Enchiladas
Ingredients:
Casserole dish ( lightly sprayed with olive oil)
to cuddle 12 -18 White corn tortillas
Two cornbread muffins (special to heart) See note below
2-3 fresh Boneless, skinless chicken breasts
2-3 small cans of green chilies
One can of green chili sauce
One can cream of chicken soup
One or two white onions chopped
Pepper Jack cheese with jalapenos grated (or Cheddar)
Salsa for topping (your favorite)
This will be your meat mixture to add in between your layers of your corn tortillas:
Slow cook your chicken breast with your cream of chicken soup and seasonings to satisfy your taste such as light salt or no salt, pepper, and one cup chicken broth.
Once cooked, pull apart your chicken breast
Add your green chilies to your meat mixture
Add your green enchilada chili sauce
Note: Special to your Heart Muffins:
I use a couple boxes of Jiffy Corn Bread Muffin mix.
Add minced jalapenos to taste preference
one can whole kernel corn
Some small cubes of cheddar or pepper Jack cheese
Directions:
1. Chop or pull apart your jalapeno corn muffins in a bowl and set aside
2. Line your casserole dish evenly with four to six white corn tortillas (depending on the size of casserole dish.)
3. Next you will gently spread your green chili enchilada chicken mixture over your white corn tortillas ( leaving enough for two more layers.).
4. Sprinkle half of your corn muffins over the top of your meat mixture to leave enough for the next layer.
5. Next you will sprinkle, to taste, your chopped onions over the top of the meat mixture
6. Follow the pretty white chopped onions with your grated mixture of cheese, Pepper jack -- you can mix a little bit of cheddar to taste, don't be sparse on your cheese! It's to your satisfaction.
7. Repeat this process one more time by gently laying another layer of tortillas over the cheese and repeat what you just did with the first layer.
8. On the last layer pour your remaining meat mixture on top (leave off the cornbread - but top it with your onions, green onions, cheese, and sprinkle pepper, and lightly salt the top.
9. Bake at 350 degrees Farenheit for 35 minutes.
Garnish with green onions and a side of sour cream if you like, and your favorite salsa!!


Enjoy with your sweet or unsweet tea or beverage of your choice or maybe a nice fresh glass of ice water to wash it all down smoothly and enjoyably.

You should have enough to last a couple of days and you can also freeze this so that you can reheat it when you're ready to finish it off.

Don't forget to throw some salt over your shoulder for good luck and open up your heart to enjoy.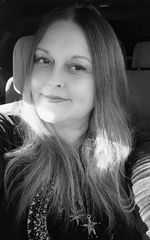 ---
Click on author's byline for bio and list of other works published by Pencil Stubs Online.
---