This Tribute to Leo C. Helmer, authored by our co-founder and webmaster Mike Craner and previously published in February 2013, is being shown this month because Leo would have been celebrating his 99th birthday on May 18, 2023.
---
When my phone rang that afternoon, my heart sank. Before I even answered it, I somehow knew we had lost a great man. I don't handle death or terminal illness well, I don't have many words of comfort to say, or in fact, much to say at all. I don't mourn a person's death, I mourn their loss to me, or their loss to those I love, and the pain that loss causes them. My grief is entirely selfish in that regard. I believe those that have crossed over have left this life of grief and pain and are better off than we are, my grief comes from the fact that we can no longer share their light as we once did, or that their passing hurts others that I care about.
I met Leo sometime in 1998 or '99 for the first time, and was instantly comfortable and at home with him. He had a personality that I thought anyone could be comfortable with. His wit and charm were disarming, and his stories and experiences were enthralling. Yes, he was coarse and rough at times in his language and expression, but it was something you just sort of accepted as "Leo".
The more I got to know Leo, I found there were a lot of things we didn't agree on. He confounded and frustrated me to no end at times, but I always admired him. I admired him because he was firm on his beliefs, and it seemed to me he'd lived his entire life following his beliefs and fiercely defending them when necessary, and never compromising.
He contributed to Pencil Stubs Online nearly every month from its beginning in 1998 until January 2013, in numerous articles and columns throughout the years, sharing his love of cooking, Western Swing, philosophy, politics, and religion. He also self-published stories of his life and jobs he held, illustrating a beautiful cross-section of Americana and history that few care to remember, if they even knew it existed. We are so blessed he shared it with us because I know it will live on now on the internet as first-hand historical accounts of life through his eyes.
The short period of his life I knew him, I knew him as a crusty old curmudgeon, entrepreneur, historian, politician, union rep, master chef, and of course philosopher. The man never stopped or slowed down. Never gave up, or gave in. He took on the world like every battle was his last, and somehow always came out on top. Even now, I picture him in a battle of wits or arm wrestle with "Ole Saint Pete", perhaps for better wages or benefits for the Angels, or maybe because St. Pete wouldn't try his Chili.
Regardless of our differences, I always respected Leo, and I will forever miss and admire him. He was like a part of our family, though of no relation. My kids have grown up around several visits of "Grandma Mary and Grandpa Leo" over the years and have accepted them as part of our family as much as they have accepted us. We pray for Leo, but especially for Mary in this most trying of times. We know Leo is at peace now, and finally comfortable, but we pray more for Mary because we know how much he meant to her and how she must feel now without him.
Please, spend some time and read some of the many, many contributions Leo C. has made to Pencilstubs, and America by reading a few of his submissions here: Leo's bio and list of published work in Pencilstubs.
I for one will miss him greatly, but I'm so grateful for all he has left behind for us to be inspired by, and remember him by.
---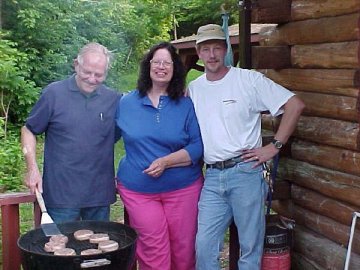 Click on author's byline for bio and list of other works published by Pencil Stubs Online.
---