The sansevieria gets no respect
With its lanky leaves and glacial growth
Except that it's sturdy and stands neglect.
Nicknamed snake plant it's often used
In places where it gets abused,
Dusty corners, smoke-filled rooms,
Offices, lobbies; and it never blooms.
But then one day, after years ignored
On the back of a desk where it's been stored,
My snake plant decided it was time
To send up a bloom stalk tall and proud.
Hour after hour I've watched this sight,
This unexpected spike of white,
Fragrant as daffodils, delicate as light;
And it's taught me once again
That even unlikely ones can hide
Beauty and sweetness deep inside.
©2003 John I. Blair
---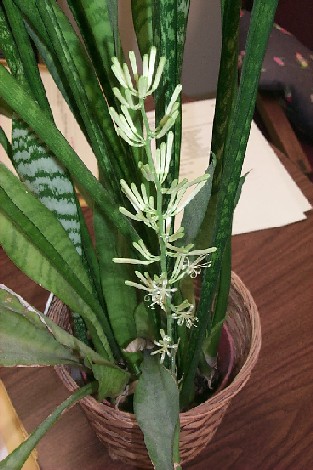 Click on the author's byline for bio and list of other works published by Pencil Stubs Online.
This issue appears in the ezine at www.pencilstubs.com and also in the blog www.pencilstubs.net with the capability of adding comments at the latter.
---