The Wicklow Hills Once More
Those of us who grew up among the Wicklow hills in the last century were surrounded by plenty of material for short stories. If we had had the powers of observation and what it took to really listen we could have written volumes about our parents, friends and relatives. And about the generations long dead that were talked about.
The county Wicklow doesn't have a great literary tradition, compared to, say Kerry. Nicholas Byrne is an exception. He was born in Seskin, Tinahely in 1937. He went to national school in nearby Kilquiggan and though he later attended Blackrock College in Dublin, like Mark Twain, he, "didn't let his schooling interfere with his education." He recalls how, "In the warm glow of the turf fire . . .they would while away the nights, reminiscing in their own inimitable way about the exploits of these simple people. . . That was long before electricity, the telephone, the television or even the radio invaded our homes. It's the story of the spade and shovel, the scythe, the sickle and the horse and cart that were in daily use." Nicholas writes lovingly about the storytellers. Of how they, " . . . spoke with a genuineness that appealed and aroused the spirits and curiosity of their listeners. They embellished these narratives with animation to make listening a pleasure . . ."
Yes, Nicholas Byrne's storytelling skills were forged at the firesides and in the fields around Tinahely. His experiences are culminated in his first book of short stories, Among the Wicklow Hills. This is a collection of twenty-two stories from among those hills. (Of course we call them mountains and get criticised for so calling what some people see as relatively mild land elevations. But, as I have pointed out elsewhere they're ours, we're proud of them and we'll call them what we like.
As one interviewer said, "It captures the wit and humorous happenings of these simple people and their quirks and foibles at a time that is now gone forever. They are stories that never pall or drag, it's a fascinating read."
The only way I can describe the stories is that, "all human life is there."
The Scull, hits home the lesson that it is very unwise to exploit or ridicule those members of society who are perceived as, "not too bright.
The Good Samaritan, while not in any way repugnant to the message of the Biblical parable, advises extreme caution when playing the role of peacemaker in an altercation which is the result of genetic "bad-blood."
A "culchie" is an indigenous Irish person who was born outside Dublin. Which means that 72% of all Irish natives are culchies? Nicholas Byrne has a story called Culchies which is not just about the urban/rural divide but also about the importance of a trip to Croke Park in the lives of young Irishmen of rural background. In this story two pals use all their wiles to borrow a car to go to Dublin to a match. During the day they encounter a puncture, an irate Dublin mother of elaborate dimensions, potholes and broken eggs. They, also, narrowly escape having to play the role of midwives. There's a twist in the tale that you'll have to buy the book to find out about.
The book also has a very useful glossary (for what outsider could understand our Wicklow lingo without such a word-list?) Where, apart from places like Kylebeg, Lacken or Ballinastockan, would you hear terms like, "gomila", "greesach" or "shiuler"?
This is a book not to be missed. Details at: www.originalwriting.ie/bookshop
Author's Note:
Oh. .and before I forget. I told you before that I had written a play,
"And All his Songs Were Sad,"
based on the life and works of celebrated Kerry singer/songwriter, the late Sean McCarthy. Well. . I am delighted to report that it is being premièred by the Pantaleize Theatre Company, in Fort Worth, Texas, on March 12th.Mattie Lennon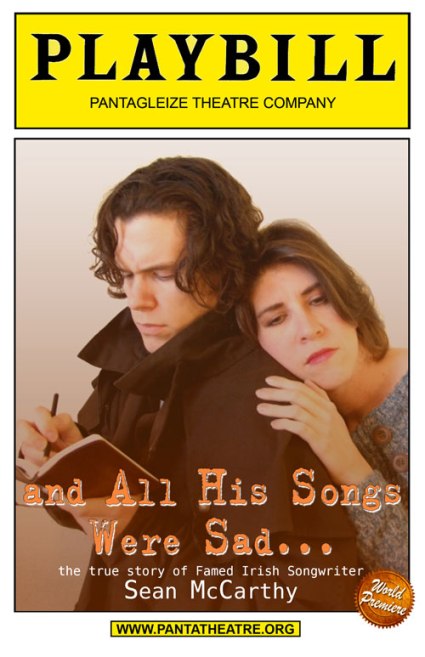 ---
Click on author's byline for bio and list of other works published by Pencil Stubs Online.