Marked By Music
Mattie Lennon
John Hoban, singer/songwriter, music teacher, storyteller and musician has now another string to his bow. (Pun intentional.) He has written "From the Plain of the Yew Tree." He is much too modest to describe it as an autobiography and I'm reluctant to call it merely a memoir.It is, as it says on the cover, "The lifetime journey of a County Mayo Musician." John is summed up in the Introduction by the legendry Christy Moore, "Meeting Johnny Hoban is always like a good fleadh cheoil for me. I look forward to lingering with him upon 'the plain of the yew tree'."
It is truly a "journey" which takes the reader to Clare Island, Sydney, Dundalk, California . . or as the author says, "All over the world and a few other places." It's written about places from Castlebar to Kandabar and about every emotion known to man (and a few that haven't been labelled yet.)
He was born on Sunday 31st January 1954 in Castlebar, County Mayo, and he now says, "All the major changes in my life are marked by music." "I don't know if describing music as my home is suitable or correct, but I do know that music gives me a sense of belonging and acceptance, no matter where I am at any given time."
"I couldn't wait to follow the trail of music which was lighting up my soul and giving all life meaning, creating a sacred path to the four directions." He "met two friends in the blue Mosque" wrote a song about a Mayo fiddle player in Freemantle, heard the Dali Lama in Perth and years later in Dharamsala, Northern India. "The common language of music makes me feel at home anywhere." This common language made him feel at ease,
"From Belfast to Boston and dear Achill Sound,
Okema, Oklahoma to old Santa Fe."
And all the time, music was "leading me by the hand." As a young man in Saint Jarlath's, Tuam, he felt that, "Music was the real world. It didn't matter where it came from or what it was called. What mattered was the feeling of the song and the way I felt listening to it."
Tried to figure out how a boy became a man
Sleeping rough in the West End in a red van.
Nobody could tell me what I was all about,
So in a few short days, I was back where I began.
For somebody who dug drains in the snow amid the din of London traffic and spent days at Fleadh Cheoils where the auricular sense was permanently assaulted albeit by pleasant and inspiring sounds and sang The Boys of Barr na Sraide in Oxford Circus he loves the absence of noise. Heather Marshall who interviewed him says, "His greatest inspiration is silence."
There are times in everyone's life when they feel scared. At such times John Hoban always, " . . . sang and played music and stayed close to the musical broken, truth of the life I had been granted."
Whether you read John Hoban or talk to him his tolerance comes across loud and clear but he does like people to be themselves. "I am only drawn to a voice that is natural; if it is trained or elocuted it does not sound true to me and I can almost find it amusing." Of the Showbands of the sixties he has this to say, "Everybody wanted to be somebody else. They sounded like they came from Texas or Nashville, not from Kiltimagh or County Monaghan, or Tucker Street in Castlebar. It was as if they had disassociated themselves from where they came from." And how about this? " A fiddle and a violin may be the same instrument, but how they are played are worlds apart."
The troubadour from Castlebar can play instruments that I hadn't even heard about. Denbo Conti from Gambia, in West Africa, brought a "Kora" (a lute harp) to Galway. John Hoban bought it from him and it can now be heard at sessions in Charlestown.
Despite his many talents John experienced the same frustrations as everybody else;
"I spent three days by train, across the Nullabor Plain
with no trees in sight.
I near went insane".
He was "taught about the life of the spirit through the language of music." And his Life took a positive turn in the eighties. He doesn't elaborate but tells the reader, "Providence had another plan and it's still working for me."
He had no trouble dealing with, " . . . dreamers, schemers and real decent folk" since music, "acted as a signpost."
" My soul was always filled with music and song as my life seemed to flicker by like a slide show."
What can we expect from the Castlebar Pilgrim in the future? Is there a clue in the Epilogue?
"For the moment, my own music pilgrimage, spanning over five and a half decades, goes on, and is described in stories, songs, poems and pictures. Like the iceberg, or the swan in the water, the main story is hidden under the water."
There will (at the last count) be two launches of "From the Plain of the Yew Tree."; On 12th September in Fairfield Library, Connecticut and on 26th October back home in Castlebar. And Providence's plan is still working well.
For more information go to:
johnhoban.net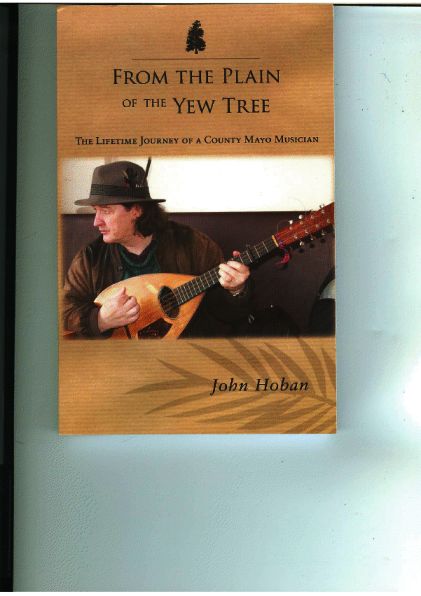 Click on
Mattie Lennon
for bio and list of other works published by
Pencil Stubs Online
.
---