My August
I told you in the July/August Irish Eyes that I would be visiting Doneraile Arts and Literary Festival on 05th, 06th and 07th August.
It was a wonderful festival with events too numerous to list here.
On Saturday evening there was a reception and Art Exhibition at Creagh Castle. The festival was opened by Journalist, author, raconteur, publican and wit, Billy Keane.
| | |
| --- | --- |
| | Billy Keane |
His father the great John B. worked in a Pharmacy in Doneraile as a young man. And Billy had no hesitation in pointing out that inspiration for many of John B's stories came from the north Cork town. (Seemingly, in Doneraile in pre-Viagra days they had their own ways of dealing with ED and frigidity but I won't elaborate. You'll have to read
Letters of a Successful Matchmaker.
) This was followed by the presentation of the Canon Sheehan Literary Award for the best short-story and the Edmund Spencer Poetry Award.
Later in the evening veteran Irish broadcaster and son of Doneraile Donncha O'Dulaing gave a talk on his native town and showed some archive footage of a TV programme My Own Place which he made in 1976.
I did MC at an open mic session "from ten till late."
On Saturday morning I got the job of doing a public interview with Presidential candidate Michael D. Higgins. As far as I know it went down well.
A talk on Canon Sheehan was given by Mary Leyland. And a lecture on Elizabeth Bowan was delivered by the famous Donncha O'Dulaing. (By the way Donncha is one of our best known broadcasters and you can hear him on RTE Radio One just after ten o 'clock (Irish time) on Saturday nights. Just Google "Failte Isteach" and you will be able to listen online.)
| | |
| --- | --- |
| Donncha O'Dulaing | |
Dr. Andrew King also gave a lecture on that other great Doneraile literary figure, Edmund Spencer and the Kerry poet Gabriel Fitzmaurice (who has to date published forty books of poetry) gave a reading. There were also readings by Gaye Walshe and Ulick O Connor.
| | |
| --- | --- |
| | Ulick O Connor |
The aforementioned Michael D. Higgins launched his latest collection of poetry New and Selected Poems, published by Liberties Press, and Leanne O 'Sullivan and Paul Soye gave readings. I Do Not like Thee Doctor Fell, by Bernard Farrell, played to a full house and the night wasn't over until Mattie Lennon did man-of-the-house at another epic session of songs and recitations where many of the visiting literati read their own work.
| | |
| --- | --- |
| Mattie Lennon and Michael D. Higgins | |
Sunday was a full day starting with a Historical lecture and walking tour by local historian Cal McCarthy, followed by presentation of children's awards and a Puppet Theatre. There were readings by Kieran Mark Crowley and Pauline Devine and Bell Ringing in Saint Mary's Church.
The Degani Ensemble gave a Classical Concert which was a great success.
And . . . festivities finished sometime early on Monday morning with a hoarse MC (yours truly) signing off. Before I headed back to the relative peace of the East Coast the committee presented me with a beautiful painting The Monkey Trees by local artist Karen O 'Shea. Karen's work was initially influenced by her love of landscape but, she says, ". . . finding a piece of scrap paper of The Maasai Bushmen in a waste bin revolutionised my work."
During our stay myself and my wife were really well looked after in the Springfort Hall Hotel. Springfort Hall got its name from a stream which flows south of the House. This stream rises in a spring in the old fort at Pencil Hill. Lewis, in 1029 mentions that triple X was mined in the Land of Baltydaniel (Springfort Hall).
In former times it was owned by Lord Roche. The Roches acquired vast amounts of land following the Norman invasion of 1169. It came into the possession of Sir Philip Perciville in the seventieth century. The next owner of Baltydaniel was Colonel Clayton, son-in-law of Sir Philip. It was later owned by the Foote family and by an Englishman named Wyatt, who sold it in 1858 to Captain Spencer Stewart for 7,000 pounds. In 1895 Commander H.T.F. White took Springfort Hall on a long lease, he was Hon. Secretary of the Duhallow Hunt (1892-1899). As Captain Stewart died without issue it passed to a relative, John Hanninon, who died in 1902.
In this century its owners included Mr. Collins, now a famous horse trainer, Mrs. Clarke, Colonel Scudamore, Mr. Cooper and Mr. Tony Dillard.
Springfort Hall Hotel Cork was purchased by The Walsh Family in 1982. If you are visiting the Emerald Isle I would recommend it. www.springfort-hall.com
***********************
THE AMERICAN CONNECTION
On Thursday 17th August I went to the opening of an exhibition to honour those who lost their lives in 9/11. It was opened by Minister for Arts, Heritage and Gaeltacht Affairs Jimmy Deenihan who gave a moving talk on the connections between our two countries. Irish-American Moira Smith, the sole female NYPD officer to die on 9/11, is to be honoured at an exhibition which runs until October 1 at the National Museum of Ireland at Collins Barracks, Dublin. (www.groundzero360.org)
Smith's radio and cap will be on display, along with previously unreleased audio footage of her final minutes.
The event has been organised by Irish photojournalist Nicola McClean and her husband Paul McCormack, a former NYPD chief and decorated hero of 9/11. (Details of Nicola's book from; enquires@groundzero360.org.
''Moira was one of the most inspiring people you could hear about," said McCormack. ''She had to know she was in mortal danger and she still went into that building and saved lives."
Brooklyn native Smith, the daughter of Irish emigrants John Reddy and Mary Finn, was killed when Tower 2 collapsed.
She left behind a husband James, also a police officer, and two-year-old daughter, Patricia.
Another event, featuring photographs taken by McClean in New York in the aftermath of the attack on the World Trade Center runs from September 6 to 11 at the RDS in Dublin.
The panoramic Ground Zero 360 installation marks the ten years since the atrocity.
Visitors are also invited to share their own thoughts and memories of that day. ''What happened devastated families," said McCormack.
''My wife, Nicola, had taken a lot of pictures at the time, but just put them in a tin can. She was very affected by what happened down there.
''But now she has created a 'wall of the missing' to honour the victims. She wants to create a lasting memorial through her images.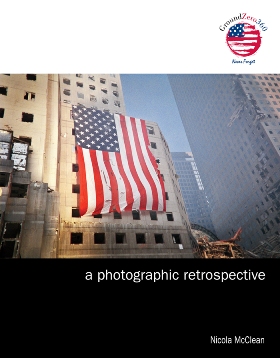 " Her book of photographs Ground Zero 360 (A Photographic Retrospective) was on sale. (See book cover above.)
---
Click on Mattie Lennon for bio and list of other works published by Pencil Stubs Online.