Valleymount, Lacken And Further Afield
Last month you left me in the culture capital of Ireland on the Friday of Listowel Writers' Week and I had two action-packed days ahead of me with events too numerous to mention. The Holycross/Ballycahill Drama Group did a wonderful production of The Beauty Queen of Leenane.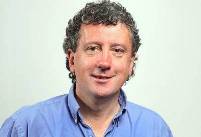 On Sunday the Healing Session
took place for the 25th year.
This marathon open-mic session has been hosted in
John B's for a quarter of a century
by the colourful and multi-talented Billy Keane.
And now back to my native heath.
The Lug Challenge is a 53km walk which begins in Stonecross Bohernabreena covering a total of 17 peeks and a 7500ft climb finishing up in Seskin in the Glen of Imaal county Wicklow..
Paul Carroll
- a past pupil of the Lacken Community School took part in this challenge on June 15th to help raise funds towards the restoration of Lacken Community Centre. Paul's challenge has raised a considerable sum for the restoration of his old Alma Mater but much more is needed. Let the Lacken diaspora et al go to the following link:
https://www.gofundme.com/lug-challenge-in-aid-of-lacken-community-centre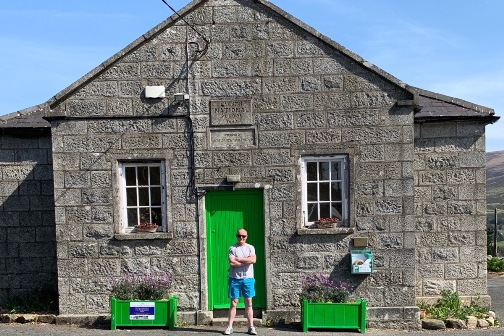 Paul's old school
* * * * *
And across the lake from Lacken this year's Arts and Heritage Festival in Valleymount opened with 'A Midsummer Night's Dream', the classic Shakespeare comedy fittingly staged on Midsummer Night. The newly formed Valleymount Theatre Company is busy fundraising and renovating the stage in the community hall. The new theatre group is run by Ged Doyle, Liz Gardner and Mark Wright, who are hoping to create an ongoing drama group and art centre as part of the many activities now being created in the area. All three have experience in the arts and theatre and are working to improve the community centres facilities to stage more productions in the future.
The Valleymount Theatre Company is in good hands.
Ged Doyle
has been involved in theatre, and the production of plays and musicals since his school days. He was a member of The Everyman Youth Theatre, Liverpool in its early years during the 1970's. He studied dance and movement as part of his teaching degree at Liverpool John Moores University, performing in several productions whilst there. He was responsible for organising and running a local Arts and Music Festival in Ballyknockan, Co. Wicklow which took place in 2007. As a teacher in Liverpool and also in Ireland he has produced and directed many plays and musicals. He founded and managed a local youth theatre, 'The Lakeside Youth Theatre', from 2001 to 2007 in Valleymount. This included writing and co-writing a number of plays and musicals plus set design and construction, and direction and production. As well as the plays and musicals he has written and co-written he has been involved in the productions of plays and musicals such as; - Bugsy Malone, Scrooge (A Musical version of a Christmas Carol), Macbeth, Hamelin (A Musical version of The Pied Piper) and Alice in Wonderland.
Liz Gardner
studied at London Academy of Music and Drama Arts (LAMDA) Her track record is impressive; Gold Medal (with Honours) Acting, Gold Medal (with Honours) Spoken Verse and Prose, Certificate of Merit (Spoken English) She has been in various amateur productions during and since school as well as directorial roles including parts in Jane Eyre (Jane) and Hay Fever (Sorel Bliss) and was a member of Edinburgh Bedlam Theatre whilst attending The University of Edinburgh (1997-2001) Professionally she is a regular speaker on archaeological specialist topics on local radio and in other media.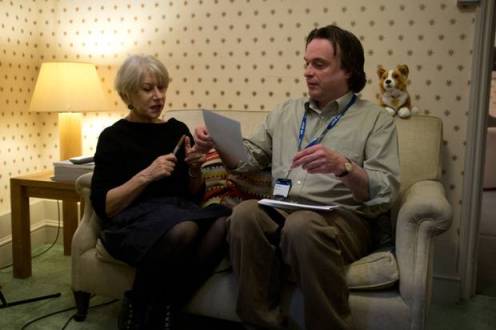 Helen Mirren and Mark Wright
Mark Wright:
Past: Royal Northern College of Music, Buxton Opera Festival, Granada TV, Yorkshire TV, Gate Theatre, Opera Theatre Co, NCH Dublin. National College of Art & Design Dublin
Production Manager: 'Look Back In Anger' Manchester, 'Mozartheatre' Dublin, 'Eight Songs for A Mad King' NCH Dublin, 'Virginia Woolf' NCH Dublin, 'Amedeus' DCU,
Props Master: Beckett Festival Gate Theatre, 'Great Expectations' Gate theatre, 'Don Carlos' Opera
Manchester, 'The Marriage of Figaro' Opera Manchester, Nutcracker, Northern Ballet Co, 'A Midsummer Night's Dream', Opera Manchester. Film: 'Dylan Thomas A Life' Director, 'Berlin to Black Hill' Producer, 'Excalibur behind the Movie' Director.
TV Broadcasts: RTE, PBS, Canadian TV, ABC Australia, France2
Mark lives in Valleymount, is currently writing and illustrating his first book; he is also working on another documentary to be shot in Paris.
Do visit the Facebook page:
https://www.facebook.com/pages/category/Performing-Arts/Valleymount-Theatre-Co
| | |
| --- | --- |
| Dress Rehearsel | |
A Midsummer's Night's Dream was followed by an exhibition in Valleymount Hall on June 22st, 223rd and 24th.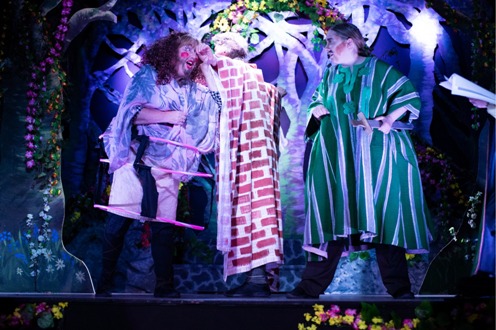 Midsummer in Valleymount
The exhibition was well attended by local people and guests came from all over Ireland, including many who had been force to leave their home as young children before the sluice gate was closed at Poulaphouca in 1940. The construction of the Poulaphouca Reservoir was one of the largest infrastructural projects ever undertaken in this country and hundreds of people were forced to relocate as 76 homes, 300 farms and over 6,000 acres of land were submerged by water.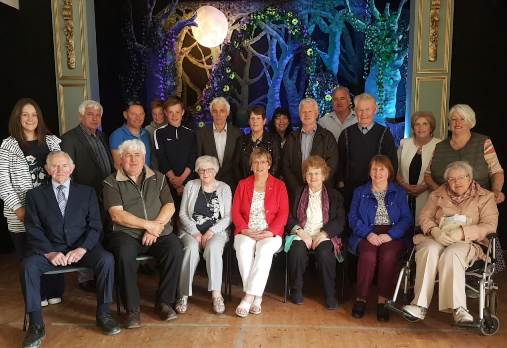 Second generation from the lake
Historian D. J. Darby, with digital displays, gave a most interesting talk on the Saturday night and archaeologist Liz Gardner acquainted us with many lesser known facts about our past. It is absolutely amazing the number of stone age and bronze age artefacts which were found by archaeologists and local people when the lake was at its lowest.
The demand for electricity had risen to such an extent, by the nineteen thirties that the ESB had to look for a river to harness as a Hydro-Electric scheme similar to Ardnacrusha. The Board had ample powers of compulsory acquisition and opened negotiations with the landowners of the area from a strong position. As one commentator put it:
"The element of compulsion and the rapidity with which the ESB moved to secure possession awakened dormant images of Cromwell's soldiers and rapacious landlords. "
Landowners were dismayed by the valuation placed on their farms, the semi- state body measuring value in purely monetary terms. Many argued they would lose a family home that rooted them to this valley. The price offered was flatly refused by indignant landowners and the case went to arbitration. Decades later, in an RTE interview my father, the late Tim Lennon, said of this adjudication: "The arbitrator was the Devil and the coort was in Hell ". As the water level steadily wrote Poet, Austin Clarke (whose people came from Blackditches Hill) wrote:
"Now that the reservoir dam at Poulaphouca has been completed, flood is raising to the last ridge below Valleymount and another sky has tumbled into the heather. The narrow lands from which my father's people came have vanished under water and the trout are too heavy to jump".
Further afield one English writer said of the scheme,
"Industrialisation is writing Ireland's epitaph ..."
| | |
| --- | --- |
| Monument to a displaced people | |
On Sunday 24th June Bishop Eamon Walsh opened and blessed the memorial garden erected to the memory of all the families who were uprooted to make way for the lake. But did they ever really leave? I think it was the Greek poet Cavafy who had the answer,
"No matter where you wander all over the world, in the fields and streets where you grow up, there you will live and there you will die."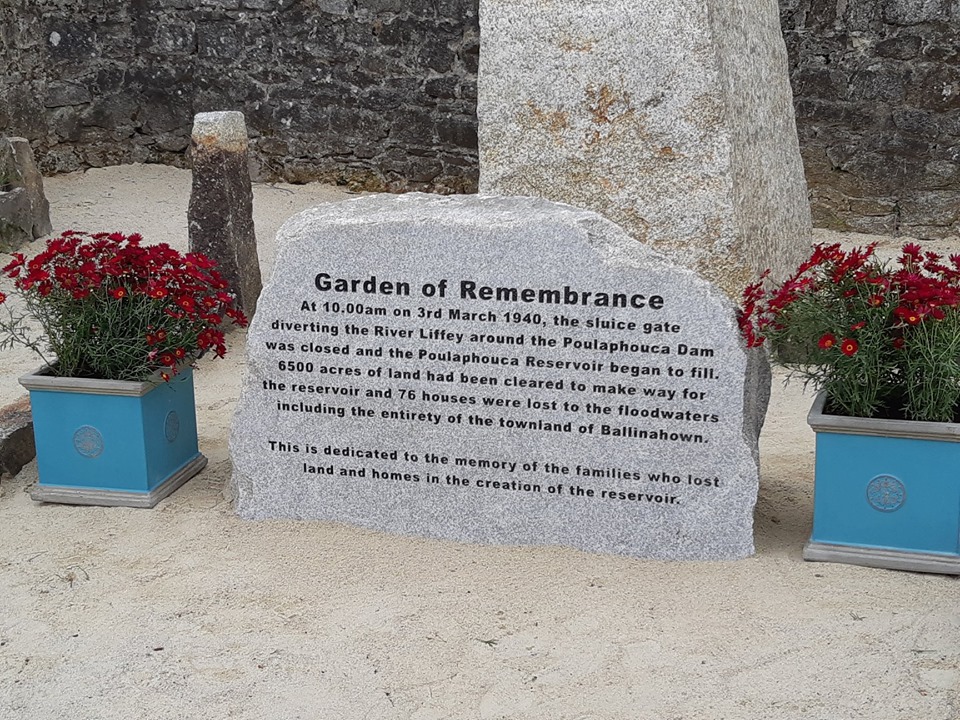 Ballinahown, photo by Gerry O'Neill
An old man from Carrigacurra told me the following story; It was 1978. The lake was at its lowest ever. Ruins of old farmhouses and outlines of small fields were once again visible; having been submerged for thirty eight years. A British film company decided to make a documentary about the flooding of the valley. One September day Jimmy was standing at the end of Norton's Lane in Ballinastockan. An English registered Landrover stopped. The driver, a man with an Oxford accent, addressed Jimmy. "We would like to interview the oldest person in the area." Jimmy's reply? "Yer late. He died last week."
You would hear all sorts of stories in that area. And sure half of them mightn't be the truth at all. I picked up this one in Valleymount as well. Sean and Paddy were walking home after a party, in Poulaphouca, and decided to take a shortcut through Baltyboys graveyard. When they were right in the middle of the cemetery they were startled by a tap-tap-tapping noise coming from the misty shadows. Catching their breath and trembling with fear, they found an old man, with a hammer and chisel, chipping away at one of the headstones. 'Holy God, Mister,' said Sean, his voice quivering, 'You scared us half to death. We thought you were a ghost! What on earth are you doing working here so late at night?'
"I was a Ballyknockan stonecutter", the old chiseller grumbled, "And those bastards have misspelled my name."
See you in August.
---
Click on author's byline for bio and list of other works published by Pencil Stubs Online.