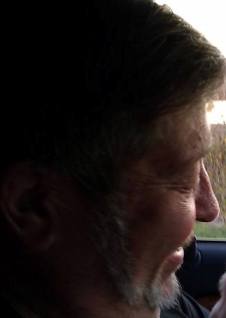 By Rod Cohenour
Triple Onion Infused Beef Rump Roast

Again this month, my sweet wife is sharing one of her original recipes. This recipe was created years before we met but has stood the test of time. It has a kinship to sauerbraten but is much less complicated to prepare. Try it, you'll find your dinner guests raving.

Bon appetit~!
INGREDIENTS:
5 to 8 lb. Beef Rump Roast
1 package Green Onion dip mix (for use in a container of sour cream for a party dip)
1 package Lipton Onion Soup mix
1 or 2 large white onions, ½" slices
1 8 oz container sour cream
1 8 oz container small curd cottage cheese
¼ cup corn or vegetable oil (for browning the roast)
2 Tbsp Black pepper (to taste, use fresh peppercorns or prepared ground pepper, your choice)
1 can beer (or substitute water or beef broth)
2 Tbsp apple cider or red wine vinegar
1/2 cup flour (reserve half for gravy)
1/2 cup water (reserve half for gravy)

INSTRUCTIONS:

1)Prepare rump roast by rinsing, patting dry, and removing any excess fat sheath.


2)Heat oil in heavy skillet. When it sizzles when a drop of water is added, it's ready. Carefully brown roast on all sides.


3)Remove roast to large stewpot. Cover to keep it warm.


4)Carefully add a small amount of liquid to the skillet and stir to loosen the browned bits.


5)Whisk water into flour to make a slurry, add to skillet and stir until slightly thickened. Add to the stewpot, making sure to get all the tasty brown bits.


6)Use a blender or food processor to reduce the cottage cheese to a creamy consistency. Add to mixing bowl and whisk in Lipton dry Onion Soup mix packet. Add to stewpot, carefully lathering to cover all surfaces of the roast.


7)Blend together Green Onion Dip and sour cream. Cover beef roast with this as well.


8)Add sliced onions to the stewpot along with your choice of beer, or broth, or water and apple cider vinegar.


9)Roast covered in 375° oven until roast is cooked to your desired doneness. We like ours well done.

The liquids remaining after the roast is cooked should be thickened with a slurry of seasoned flour and water to make a delicious gravy.

Serve with mashed or baked potatoes (can bake along with the roast), rice, or egg noodles. Add a crisp salad and hot, crusty bread and enjoy!
---
Click on author's byline for bio and list of other works published by Pencil Stubs Online.