No Healing Session But A Virtual Writers' Week
And Hawkin's House Going
A losing trade, I assure you, sir:
literature is a drug".
--George Borrow.

The culture addicts who have been flocking to Listowel Writers' Week since 1971 are, in the interest of public health, about to be deprived of their fix for the second year. But there is a packed Virtual programme which includes From Altar to Halter - Based on John B. Keane's celebrated letters. St John's Theatre presents a dramatisation of humorous characters and encounters featuring: the parish priest, the postman, the successful TD, and the matchmaker. This is the perfect introduction to some of Keane's wittiest and best-loved creations - a dramatic presentation that's sure to bring a smile to your face. You will find details at: writersweek.com

I contacted a few celebs who were the hard hitters at Irelands biggest literary festival over the years. Poet Michael Gallagher had this to say,
"Saving Myself for Billy.


I don't remember where it was held that year – maybe the Shebeen. Poet's Corner moves from one Listowel pub to another every few years. Poet's Corner is where the 'real' poets spend Writers Week; it's a lion's den where you have to shout to be heard, far removed from the soiree-like gatherings in the Hotel, and favoured by the 'established' poets.


Anyway, it was my first year as a poet, and every day I practiced my poem so I would be word perfect on the night. I went very early on Thursday night, determined to introduce myself to the world as a poet. I didn't sign on to read at first as I wanted to drink in the atmosphere. I drank alright but the atmosphere proved too much. Everyone was brilliant. Where would I be going with my scribbling!


Friday night was the same. I actually put my name down to read but when George Rowley, the MC, called, I was ordering another pint of Dutch courage at the bar and didn't pretend to hear.


So that was it. Poet's Corner over and I was still a virgin poet. I had met some great new friends, though; friends who would remain constant down the years, among them, Pauline Fayne, Teri Murray, Barney Sheehan, Neil Brosnan, Paddy Phelan, P. J. Kennedy, and John Sheehan, to name a few. One of them would have told me about the Healing Session.


The Healing Session takes place in John B Keane's pub on the Sunday morning of Writer's Week. At that time, the MCs were George Rowley and Billy Keane. I had form with Billy. Months earlier I had been talking to him over a pint and he asked if I 'wrote a bit' (invariably the first question you are asked in that particular establishment!) I showed him a piece I had written and he opined that I was 'more of a poet than a writer'. With that advice, I went off and wrote my first poem. I brought it back to Billy. Billy liked it and, more importantly, his mother, Mary, liked it. I left it with them and, unbeknown to me, Billy entered it in The Ballydonoghue Magazine. Not only was it published -it won first prize of £100, leaving me to believe (mistakenly) that this poetry writing was a great racket altogether.


So, armed with my spider poem and a couple of other scribblings, I headed off for The Healing Session. This was it. This was what I had been waiting for.


There was a queue halfway down William Street but I eventually managed to squeeze into the bar. I passed my name to George, hoping to get it over with quickly. No chance – I waited hours! And hours! By the time I was called, I was exhausted and exasperated. I struggled through the horde. Billy went into full flow. 'This is my personal discovery'. 'This is the new Kavanagh'. 'Remember you heard him here first!' A great day for Irish poetry!'


I was jelly. I looked at my foolscap and skipped the first forty lines. I said (stuttering with embarrassment), 'I'll do a haiku'.

In spring lambs frolic
Through the scribes romantic words
In summer poets hunger


I bolted; scuttled through the dumbfounded crowd.
Through the silence, I can still hear Billy's searing whisper: "' ...TARD.'""

Colm Toibin summed it up, " Listowel Writers' Week is serious about literature. Everyone who comes here knows how much literature enriches our lives."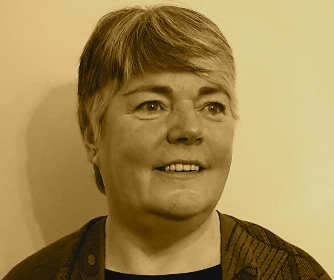 Hilda McHugh

Here are the words of author Hilda McHugh:

"I'd heard of and read about Listowel Writers' Week for many years, but it was not until 2010 that I managed to get there for the first time. Nothing could possibly prepare you for the phenomenon that it is. The workshops 4-hour sessions over three mornings given by world-renowned national and international authors were the best learning experiences of my life. I was hooked and LWW has been the highlight of my year ever since.

Afternoons and evenings are spent attending book launches, lectures or theatre performances minds awhirl with having to choose from the rich menu of available experiences. Later sharing with friends …sorry you missed so-and-so s/he was brilliant, I wouldn't have missed the one I attended etc etc. and then off to Poet's corner, or the literary pub crawl or the sing-song sessions of your choice or trying to take in all of them with friends old and new. Late to bed and early to rise to start the process all over again. Meeting and greeting my literary heroes and heroines, random conversations with the famous and the down to earth, breathing the same intoxicating air, feeling like a writer.

All too soon it's over and we're bidding farewell for another year. The bittersweet experience can only be ameliorated by the 'Healing Session' in John B's where Billy Keane presides over the best-run entertainment money can't buy. The MC and always ensured the mix of songs, recitations, poems, and readings was just right. He could not be bribed or influenced he selected whose turn it was and if you were called you got to do your piece if not you appreciated the talents of the lucky ones who were. Standing room was called breathing room and is a tight squeeze the tiny performance space was the only place to properly inflate the lungs. A fitting end to a fantastic experience. I can't wait for the real LWW to return."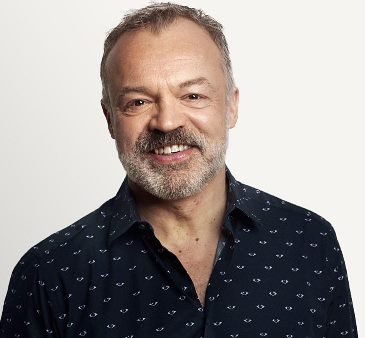 Graham Norton on Listowel

Graham Norton with the utmost brevity described it as the "Best Literary festival in the world."

Roddy Doyle admits, " I've been to many writing festivals since then but none as warm." Adding in true Dub fashion, " Or as mad."

Emma Donoghue loved, " . . . the warmth and informality of this wonderful gathering."

For many The Healing Session, mentioned by Hilda McHugh and Mike Gallagher, a marathon Open-Mic session, held in John B. Keane's on the closing Sunday, was the highlight of the festival. As far as I know there was no laying on of hands . . . although there is a dimly-lit area in the west corner of the bar!
* * * * *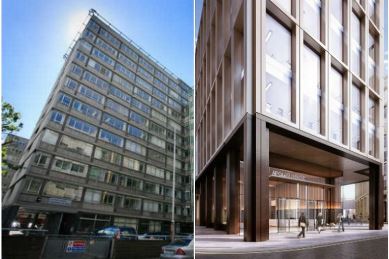 Hawkin's House and What It Will Look Like

Hawkin's House, often described as "Dublin's ugliest building" is being demolished. The monstrosity is finally to be levelled, three years after its demolition and redevelopment was granted permission. The former Department of Health headquarters was built in 1962 on the site of the former Theatre Royal, which was a beautiful building, on the corner of Poolbeg Street and Hawkins Street.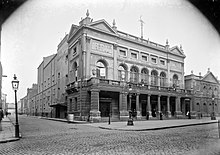 Dublin's Theatre Royal
Years ago I wrote a one-act monologue radio play set in the security hut of that building. I'm attaching the audio.
In the Hut wav
Editor's Note:
This played after choosing "Play it anyway" although it could not be scanned for viruses. If you prefer, Mattie Lennon has divided his audio into two wav parts:
Part One of In the Hut
Part Two of In the Hut
---
Click on author's byline for bio and list of other works published by Pencil Stubs Online.