Bette Ainsworth
Tonight I release again. It has been six years since you passed. Happy to meet, sorry to part, Happy to meet again.

In the ago time, I would have spent the last week designing an original card and agonizing over just the right words to scribe upon it. Words that would warm your heart, convey my love and offer my gratitude.
But you are gone now.

You raised six kids by yourself and they all turned out just fine. You beat cancer four times and paddled your ass off in a Dragon Boat. You volunteered your time for those going through chemo and the 'Old Folks' at the Senior Center.
But you are gone now.

You taught me, unconditional love. For every challenge I went through you were beside me and never judged. You taught me about serving others and I witnessed the many kindnesses you bestowed on others, never expecting anything in return.
But you are gone now.

We talked across the porch and you had a way of encouraging me to keep moving forward. When my art was rejected or writings declined you would always remind me that you have to receive a lot of no's until you receive a yes. You always were over the top in your praise for my work.
But you are gone now.

You loved your Sunday Morning Preachers yet never forced your views on anyone. You had a very basic understanding of the Divine. We are all in God's Hands and if it gets too much or you get overloaded just put it in 'God's Box' and he will look after it.
But you are gone now.

The number of times I have gone to the back porch to 'Hoy' you and tell you about something I saw or heard that might interest you. The many times I have headed out in the car thinking, "Mom would have enjoyed this". The numerous times 'We' cooked dinner.
But you are gone now.

There are so many things that I miss. The little things. Watching you act like a little child dressing up in costumes from your Tickle Trunk. Riding on the back of my Harley. Saying goodnight and I love you at the end of each day. I do miss you.
But you are gone now.

To my Elders; take care of this wonderful woman, make room for her about the fire, and listen well for she has much wisdom. Guide her further along her journey and know that she will always be a treasure to those left behind. Mother Earth, Father Sky, Grand Father Sun, and Grand Mother Moon I entrust my Mother to your care, I will hold you to your promises. Let the four directions protect and guard over her that she may travel with ease. Sleep well, dream deep dear Mother of mine.
Humble bow David Bruce Clarkson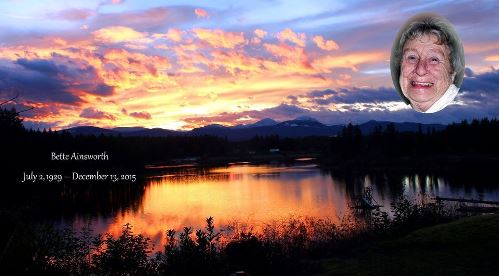 ---
Click on author's byline for bio and list of other works published by Pencil Stubs Online.
---