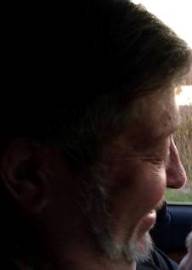 By Rod Cohenour
One of the nicest things about being a foodie is being able to experiment with things. One of the things that I really enjoy is French-based cuisine. This recipe sounds fancy (and it is) but it's relatively straightforward to fix and oh! So delicious. it's Crab Stuffed Flounder Almondine enhanced by Sauce Mornay, which in turn is the basic French white sauce known as Bechamel with a goodly amount of Gruyere cheese melted into the Bechamel and whisked to a silky finish.

My bride created this divine recipe way back in the '70's. It has stood the test of time.Try this recipe. It's beyond delicious, call it delectable!

Bon appetit ~!
Ms Crab Stuffed Flounder Almondine with Sauce Mornay
INGREDIENTS:
For the Crab-Almondine Stuffed Flounder:
2 tablespoons butter
1 bunch green onions, minced both green and bulb or 2 small shallots, finely minced
2 cloves garlic, minced
2 stalks celery, minced (de-string before cutting)
1/3 cup dry vermouth (can substitute white or red wine vinegar)
A few dashes hot sauce, such as Emeril's. (Can use Tabasco, Cholula, or Sriracha, but we prefer Emeril's.)
1/4 cup Panko breadcrumbs
1/2 cup sliced and toasted almonds
1 tablespoon finely chopped fresh parsley
1 teaspoon Old Bay seasoning
1 1/2 to 2 cups fresh crabmeat, well cleaned and shredded
Salt and pepper to taste
4 flounder fillets, skin removed
4 tablespoons butter
For the Sauce Mornay:
1/4 cup butter
1/4 cup flour
2 and 1/2 cups milk
1/2 teaspoon Salt
1 teaspoon finely ground black pepper
1 teaspoon Freshly grated nutmeg
1 cup grated Gruyere cheese
1/4 cup sliced and lightly toasted almonds
Prepare the Flounder:
Step 1.
Preheat the oven to 375 degrees F.
Step 2.
Melt the butter in a skillet over medium-high heat. Add the green onion or shallots, garlic and celery; cook until softened, 4 to 5 minutes.
Step 2.
Deglaze the pan with the vermouth and hot sauce to taste, and let cook for another minute.
Step 3.
Scrape celery, garlic, and onion mixture into a medium bowl. Add the Panko breadcrumbs and fresh parsley. Add Old Bay, salt and pepper (to taste); mix to combine. Gently fold in the crabmeat. Fold in half of the almonds, reserving half for garnish.
Step 4.
Prepare the Flounder fillets: rinse and using a paper towel, pat dry. (This helps the fish to achieve a nice light brown finish when baked.) Arrange each fillet on the baking sheet.
Step 5.
Divide the Crab-Almondine stuffing mixture in fourths. Spread one-fourth mixture evenly along half of each fillet. Fold fillet over to enclose (secure with toothpicks if necessary). Dot evenly with butter and sprinkle with salt and pepper.
Step 6.
Bake until cooked through, 25 to 30 minutes, at pre-heated 375° temperature.
Prepare the Sauce Mornay:
Step 1.
Melt the butter in a medium pot over medium heat. Sprinkle in the flour and mix with a wooden spoon to make a basic Bechamel (white sauce). Stir flour and butter roux until it passes its "raw" stage, and has achieved a light beige shade (like wet sand).
Step 2.
Step 2. Cook, stirring, for a couple minutes and then whisk in milk. Bring to a simmer, stirring and scraping the bottom of the pan to blend roux and milk to a silky sauce, and cook for a few minutes. Lower temperature if necessary to prevent thickening or forming lumps.
Step 3.
Season with some salt, pepper and nutmeg. The sauce should be smooth and fairly liquid.
Step 4.
Remove from the heat and add the Gruyere, stirring until fully melted and combined. Cover and remove from direct heat but keep warm.

Serve each stuffed flounder fillet on selected serving plate, alongside mashed potatoes or wild or white rice or simple buttered pasta, as desired. Top with Mornay sauce. Sprinkle with toasted sliced almonds.

A simple salad and a crusty hot bread with sweet creamery butter makes a perfect meal. Serve with a green vegetable side for a lovely touch.
---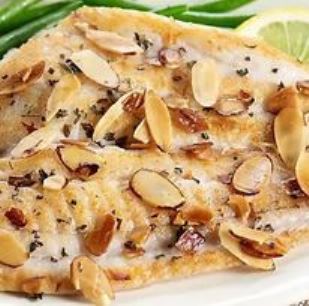 Click on the author's byline for bio and list of other works published by Pencil Stubs Online.
This issue appears in the ezine at www.pencilstubs.com and also in the blog www.pencilstubs.net with the capability of adding comments at the latter.
---