By Bud Lemire
She came to tend a garden, with every kind of flower
With a water hose, she gave each of them a shower
She was an artist, saw the beauty in each one
Appreciated it better, when each grew in the sun

Her flowers were her children, she cared for them each day
She'd feel so very bad, if one of them withered away
She preferred all, to be in bloom
Dying flowers to her, just brought gloom

Cathy was a sweetheart, with her laughter and her smile
I'd stop to talk with her, sometimes quite awhile
She'd come out of her back door, happy to show me around
There were tons of her flowers, everywhere, all over the ground

I'd take a picture of each, and show her what I took
She'd say "wow," and was happy she had a look
She didn't like her picture taken, but I took one of her one day
She was watering her flowers, and I snapped one anyway

I kept missing her, as I hadn't seen her out at all this year
I found out she passed, and I was very sad to hear
I went by her Flower Garden, for some final pictures to show
A butterfly landed on a flower, and here's something I do know

Cathy came by, to check on all her flowers
Without any water, she was hoping for some showers
She didn't stay long, just long enough to say
"Thanks for coming by Bud, you'll see me again some day"
©September 2023 Bud Lemire
Author Note:
Cathy Plank was a wonderful soul. She loved her flowers,
and her love for them, got me taking pictures of them. I'd try
to take a picture in each position and with good lighting.
Her laughter was so wonderful to hear. She'd come out of
her back door and be ready to show me all the flowers that
were coming up recently. I never thought of me as a flower
person, but now, I see beauty in all things. Thank you Cathy,
for the beautiful flowers you tended, for me to share in pictures
with everyone on Facebook.
---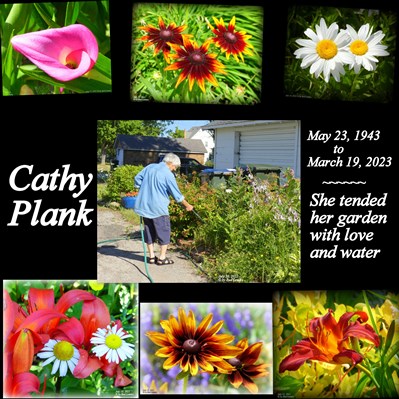 Click on the author's byline for bio and list of other works published by Pencil Stubs Online.
This issue appears in the ezine at www.pencilstubs.com and also in the blog www.pencilstubs.net with the capability of adding comments at the latter.
---