Irish Eyes
Words on Wheels
I'm but a poor cobbler that dwells on the Coombe
As good as they're made I safely presume
I frown not for riches nor seek not the "dole"
I'd rather be striving to save your poor sole. From early till late for to patch and repair,
I toil the whole week yet never despair,
On Sunday I'm off like the good sport I am
For a bonafide stunt on the Blessington Tram.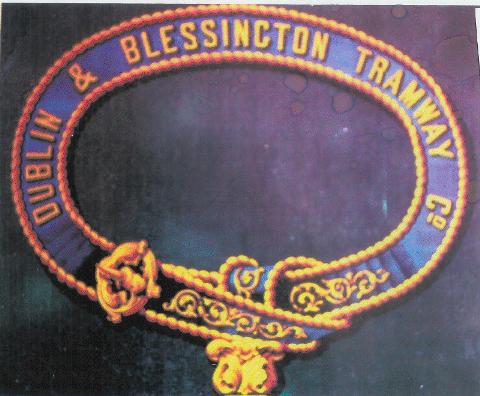 Above: Blessington Tramway logo.
In the mid nineteenth century a railway link between Dublin and Blessington was mooted by the "well-off" of both places.
In 1871 the Westminster Parliament passed the Light Railways Act which gave power to companies, through their local authorities, to run steam trams on public roads. The Terenure to Blessington tramline was laid and was ready for operation in 1888.
During its forty-four years of operation the Blessington Tram was the stuff of legend, folklore and tragedy. So numerous were the pedestrian fatalities that the road from Terenure to Blessington was known as "the long graveyard."
The last tram left Terenure at 06:15P.M. On Sunday 31st December 1932.
Now retired butcher, enththusiastically historian and Blessington native Aidan Cruise has written a comprehensive account of the famous "Blessington Tram." There is a collection of black-and-white photographs dating from 1888. Through painstaking research over a number of years Aidan has accumulated a collection of stories, anecdotes, poems and legends from old people who remember, and a younger generation, to whom the tram lore has been handed down.
Mary McNally has vivid memories of when the tram-stock was sold off and her uncle bought two carriages to make a hen-house and a piggery.
Pat O'Neill tells of his sister's confirmation and the long walk from Cookstown to Tallagh to get the tram
.
"The Dublin and Blessington Steam Tram"
edited by Jim Corley, with an introduction by Mick Duff, Mayor South Dublin County is available (Price€10) from; South Dublin Library Headquarters, Unit 1, Square Industrial Complex, Dublin 24.
AND
It Happens Between Stops
is a collection of short-stories, articles, essays, poems and a play written by employees and former-employees of the CIE group of companies. In the foreword written by American novelist Lawrence Block he says, "It Happens Between Stops is a splendid, selection of CIE literature. The quantity and quality of work produced by this group, taken from a workforce of a few thousand people, would do credit to a city of many millions."
There is something for everyone in this collection. Here's a small sample:
Autumn Day
By Cathy Hickey
I am walking in the woods,
The Autumn wind takes the leaves from the trees,
They fall around me
And crunch beneath my feet.
I watch them dancing on the wind
And think of You.
You would wonder at this,
The sound of the river rushing by,
Breathing the sweet crisp air.
Absorbing the warmth of colour,
Enjoying the sight of a young squirrel
Busily preparing for Winter,
At the base of the magnificent old tree,
Simplistic, yet so complex,
This cycle of Life…….Nature…..
It saddens me to think, yet again,
You are missing this moment.
Then it occurs to me that you are not,
Because you are here, walking with me.
Sharing this joy !!!!!!!
(Cathy Hickey © published in "It Happens Between Stops.")
Or
"The Eclipse on the Cheap"
By John Bolton
The morning news had a full load of Concorde passengers who had paid some £2,000 for a figure of eight over Tenerife to see the eclipse. This way you got to see it from both sides of the plane twice.
For me, I loaded up my single decker to go to Dalkey. I got to Booterstown when I got this eerie feeling. I noticed the light change, but before I pulled back into the traffic, I noticed the start of the eclipse in the dark glass sun visor. The time was spot on between 11.18 and 11.22.
While watching this, an elderly lady asked if I was OK.
I replied, "It's the eclipse, do you want to see it?"
She and all the rest queued up the centre aisle to see this from the drivers' seat. I got a great round of applause at 11.25 when it was all over.
I would be barking up the wrong tree to stick them for £2,000 each.
(John Bolton © published in "It Happens Between Stops.")
It is, in the words of Lee Dunne, "As an entertaining well written, dip in for a shot kind of book, this publication does not disappoint. So many tastes and flavours, none of them likely to give anybody indigestion. I take my hat off to the CIE guys and gals and congratulate all of them. I was very moved by 'Autumn Day' by Cathy Hickey, a well observed poem, free of artifice, her closing lines leaving me deeply moved. My best wishes to all of you. God bless
Irish Times
journalist Fintan O 'Toole has this to say, "Witty and gritty, It Happens Between Stops is something rare in Irish fiction -- a view of working life from the inside. It combines the freshness, vigour, humour and hard edge of everyday speech with the determination to transform the mundane with the power of imagination."
"It Happens Between Stops" is published by Original Writing. You'll get the information on their website:
www.originalwriting.com.
or from ciewriters@gmail.com
Book Cover shown at bottom of page.
---
Click on author's byline for bio and list of other works published by Pencil Stubs Online.
---