By John McGrath
I go back to Cullatinny now and then
And I see the ruined rafters where the thatch has fallen in.
Every year I see the ivy creeping closer round the door
And I think of how it was in days of yore.
I remember Cullatinny in the Spring,
How our hearts would fill with wonder when we'd hear the cuckoo sing.
I remember voices ringing as we saved the scented hay,
And the sounds that filled each barefoot Summer day.
I remember Cullatinny in July,
When the street was always busy with the people passing by,
And the corncrake's call would echo with the coming of each dawn.
Now the people and the corncrakes are all gone.
I remember Cullatinny's Winter skies,
When the ice in crystal rainbows hung from thatch and galvanize,
And the frost beneath the moonlight gleamed like diamonds in the snow,
In a Cullatinny Winter long ago.
O yes, I remember Cullatinny still,
Though the rowan from the chimney grows and green moss hides the well,
Though there's briar, broom and bramble where the old road used to go,
Back in Cullatinny, O so long ago.
©Circa 1990s John McGrath
---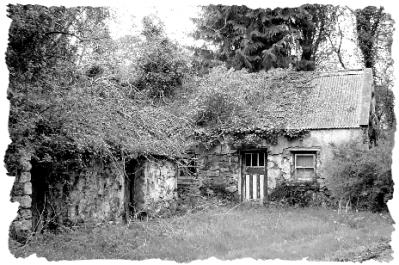 Click on the author's byline for bio and list of other works published by Pencil Stubs Online.
This issue appears in the ezine at www.pencilstubs.com and also in the blog www.pencilstubs.net with the capability of adding comments at the latter.
---