Mary Ashton Rice Livermore
(1820-1905) was a key organizer for the United States Sanitary Commission during the Civil War and afterwards a leader of the woman suffrage and temperance movements and a popular lecturer on social reform. Born in Boston into a strict Calvinist family, Mary had taken religious questions seriously as a child, but eventually reached a crisis of faith. As a young woman she tried to find a new life by working as tutor on a plantation in Virginia, but three years living in the South taught her that slavery was as "demoralizing and debasing" to white slave owners as it was hard and painful for blacks. By the time she returned to New England, Mary was an ardent abolitionist.
On Christmas Eve in 1843, she was attracted into a Universalist church by the cheerful singing. On entering she found herself uplifted by the message she heard. Afterward she introduced herself to the church's young minister, Daniel Livermore. With books borrowed from Daniel's library, Mary "was soon deep in a course of theological reading and study." She met with Daniel frequently, embraced Universalism and they fell in love. They wed in 1845, and their strong marriage lasted for over half a century.
Daniel served a succession of churches. His stands on slavery, women's rights and temperance often caused tension with his parishioners. Mary, strongly supporting her husband's views, but unhappy with her role of minister's wife, found an outlet in writing and won two prizes for her stories—Thirty Years too Late, 1845, on temperance, and A Mental Transformation, 1848, about "changes wrought in one's life and character by a vital change of religious belief."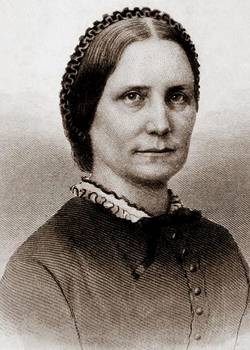 Mary Rice Livermore
In 1857, frustrated with parish life, the couple moved to Chicago, where they lived for the next thirteen years. There, Mary, with Daniel's help and encouragement, came into her own as a competent, self-confident woman with an important role to play in the reshaping of society.
A turning point came when, during a cholera epidemic in the city, she determined to stay and volunteer her help rather than leaving Daniel and fleeing with her daughters. She quickly developed organizational skills, and when the Civil War broke out she was recruited by Henry Whitney Bellows, head of the U.S. Sanitary Commission, to become coordinator of the Northwestern branch. During the next four years she organized a far-flung volunteer support network for the Union hospitals, visited the hospitals, wrote letters "by the thousands" for soldiers, escorted wounded soldiers from hospitals to their homes, and raised large sums of money in support of the Commission's work.
Banner of the U.S. Sanitary C
ommission
During the war, Mary became "aware that a large portion of the nation's work was badly done, or not done at all, because woman was not recognized as a factor in the political world. . . . [M]en and women should stand shoulder to shoulder, equal before the law." Women, she concluded, needed the right to vote. When the war ended, Mary rose to leadership in the woman suffrage movement, writing and traveling widely as she lectured and chaired meetings. In 1868 she organized the first woman suffrage convention held in Chicago. In 1869 Mary served as editor of the woman's rights periodical, the Agitator. It was not long, however, before she was encouraged to full-time lecturing.
For almost a quarter of a century, until her retirement in 1895, Mary devoted herself to this new career, speaking on women's rights and other reform topics "in every part of the country from Maine to Santa Barbara." Her lectures, delivered without manuscript or notes, addressed a wide variety of topics, ranging from women's rights and temperance to immortality. While reflecting her Universalist convictions, all were crafted for broad appeal to a general audience. In "Concerning Husbands and Wives" she held up a model of marriage between equal, complementary partners. In "The Battle of Life" she shared her vision of the better world that was to come and encouraged her listeners to move in its direction. In "Does the Liquor Traffic Pay?" she described the huge social cost of alcohol and called on her audience to join her in winning the temperance battle. In "Has the Night of Death no Morning" she affirmed her belief in the soul's immortality, a belief to be fostered by noble living. In "What shall we do with our Daughters?" she called on her listeners to prepare the next generation of women to take their rightful place in the affairs of the world. The last was delivered more than eight hundred times.
Immensely popular as a public speaker, Mary became known as "the Queen of the American Platform." She was the author of two substantial books: My Story of the War, published in 1887, an account of her work with the Sanitary Commission, and The Story of My Life, published in 1897. In 1873, Mary was chosen as the first president of the Association for Advancement of Women. In 1875 she became president of the American Woman Suffrage Association and began her twenty-year presidency of the Massachusetts Woman's Christian Temperance Union. Mary often spoke from Universalist pulpits and at denominational and interdenominational meetings. As a major speaker at the Murray Centennial celebration at Gloucester in 1870, she shared her expectation that "through the doctrines of Universalism" sin will be overcome.
Adapted from an Article by Charles A. Howe, All material copyright Unitarian Universalist History and Heritage Society (UUHHS) 1999-2011 http://www25.uua.org/uuhs/duub/articles/livermorefamily.html
---
Click on John I. Blair for bio and list of other works published by Pencil Stubs Online.Pic Below: Mary Rice Livermore Speaking at Convention
---
Refer a friend to this Column