Books, CDs and Writers' Week
Since I saw you last I came across some interesting CDs. "Songs Along the Way", is by singer Marian Quirke. Marian, now living in Doneraile, County Cork, was, "born in the fields of Athenry into a family tradition where music and singing in particular was second nature."
In her early years she was regularly exposed to the American wake where she witnessed the sad parting of many fine young men and women from the locality. Neighbours would gather the night before bringing whatever money they could spare in an envelope to speed the traveller on their way.
Marian and her dog.
A night of singing and revelry would follow. She says "We also had the annual station party where if you were asked to sing, you just got on with it and stood up and belted it out...no excuses accepted...when we were younger going out in the 'wran' was a huge part of our childhood...I believe all of those singing opportunities laid the foundations for my particular little venture into the recording world. Some of the songs on the CD were sung back then...."The Queen of Connemara " was one my father's favourite which he taught to me when I was knee high... "I loved You Better Than You Knew" was usually sung by a cousin who died too young...a fine singer he was......others are songs I've gathered along the way....the album itself was inspired by my sister who lives in New York and had pestered me for years to do 'something' with my voice." Marian has certainly made good use of her voice with "Songs Along the Way."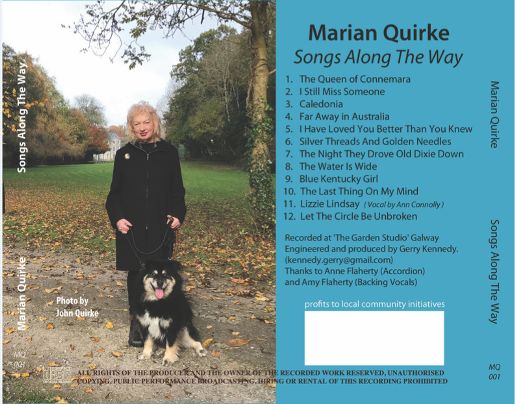 Marian Quirke's CD
Details: https://www.facebook.com/Songs-along-the-Way- 1672305203061
* * * * *
Singer Ann Rowan fell victim to cancer in August 2016. She would be 60 now. Her friends have brought out a double CD, " Singer" (see pic at bottom of column) and are holding a Benefit Concert her memory. All proceeds will go to Saint Luke's Hospital.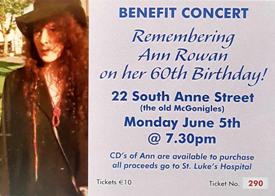 the late Ann Rowan
* * * * *
Much has been written about the Liffey Hydro-Electric Scheme which caused the flooding of a whole valley in west Wicklow to make an artificial lake, In1940. Now a number of volunteers in Valleymount have compiles a book, "Stories of the Flooded Valley.2
It is made up of thanscripts of interviews with fifteen people, most of them born in the first quarter of the last century, who remember the "flooding" and before it. In the stories of suck people as Billy Craul and Davy Doyle we are re- introduced to people who speak in a dialect and with a sentence-structure now almost obsolete. The book contains many black-and-white photographs which have been rescued from the jaws of obscurity.
The Flooded Valley
Details from Harry Farrington at; gossiefarrington@gmail.com
I told you last month that my One-act play, "A Wolf by the Ears" was about to be staged by the Kill Musical and Dramatic Society. Well, I couldn't be better pleased with the production. Director Niall McDonald and his cast did a wonderful job of bringing my work from page to stage. The characters came alive in a manner that I could not have anticipated.
By the time you read this I hope to be, once again in the cultural capital of Ireland, Listowel, for Listowel Writers' Week. This year we have some literary heavyweights such as Mike McCormack and Jess Kidd, Colm Toibin and Chris Cleeve to mention but a few. On the Saturday P.J. Lynch will be painting a portrait of Ryan Tubridy and according to the programme, Tubridy," . . will sit still and as quiet as a mouse." That'll be one for the books.
---
Click on author's byline for bio and list of other works published by Pencil Stubs Online.
CD of Ann Maria Rowan's songs, "Singer."
---