By Bud Lemire
Many times, I wish that we could hide away
From the nasty virus, that is around today
Maybe on an island somewhere, where it will not find me
Until this is all over, but that might take an eternity


It's not a matter of if you get it, it's a matter of when you do
That's what the news is saying, I wonder if it will come true
I hide in my apartment, but I need to come out sometime
At the grocery store, I look around as I stand in line


People are getting it, when they've done everything they possibly can
I do my best to use caution, but will it be enough for this man
Those N95 masks we are supposed to wear, sure do fit so tight
They are ones we need to use, when we are near people, day and night


I sit here also thinking, of those who are so deep in fear
This is a time of support, to help those who are here
Others walk around without masks, thinking they are safe from it
I think they heard so many lies, they believe someone's full of shit


Then there are those, who think a cloth mask will keep it away
The N95 isn't cheap, but it's the best protection every day
I don't have all the answers, many are as confused as me
On what we should believe, and what the future will be


Oh, another hundred people, got Omicron today
Is what I keep hearing, the news had to say
Use every caution, with the virus in the air
Because Omicron is on loose, and it's everywhere
©Jan 12, 2022 Bud Lemire
Author Note:

I must admit, that my anxiety keeps popping up
. Sure, many can stay relaxed. For me this bad
news is overwhelming. I must fight every day
to stay calm and get through it.
---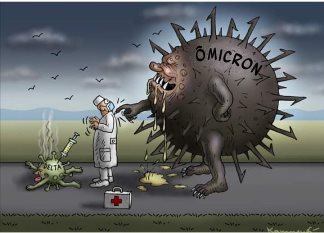 Click on author's byline for bio and list of other works published by Pencil Stubs Online.
---