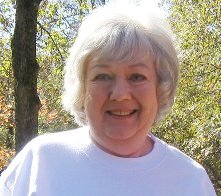 The House on King Street
"The house on King Street" sounds well to do, but this particular house was far from that. In fact, the street was nameless until sometime in the mid-1950s when street signs were installed for the first time. It was named for the original homesteader, Sy King, not a distant European majesty.

Nevertheless, the house I grew up in still has a special meaning to me. Many years passed before I realized how shabby and poor it was. In fact, I was totally unaware that compared with other families in the U.S. we were very poor indeed. Not just the house, but our way of life. Almost everyone we knew was just like us. My dad was a teacher and school superintendent; both were fairly prestigious jobs, but they paid very little. My mom was a full-time homemaker in my early years, but when she started working neither made much money by national standards at the time.

The house was a small frame bungalow that sat on a sloping lot with two bedrooms built sometime in the 1920's. The best feature was a large porch that stretched across the width of the house. Since Daddy hated bugs, it was screened in and a lifesaver on hot summer days and nights.

The original clapboard exterior was covered with white asbestos shingles at some point. Probably more for insulation than appearance. No one suspected those shingles would be a problem years later. In 1940 (the year I was born) indoor plumbing and a bathroom were added. We made do with

Five of us shared it the little house – Mom and Dad, my sister Zella and my brother, Billy Max. The Warm Morning gas heater in the living room heated that room and the kitchen. The other rooms were shut off to conserve heat and save money. The bathroom had a small heater that we lit in very cold weather or when bathing. The large bedroom that my parents shared with me and my sister was also unheated. We put hot water bottles in the bed to warm it and slept under "wool comforters" that were so heavy we couldn't turn over. My sister and I slept together on a ¾ size bed. A size between and twin and a double bed. I have never seen another one. Zella went to college when I was 10 and I had the bed all to myself.

When I was about 12 years old, my dad got critically ill with kidney stones and was flown to Barnes hospital in St. Louis to save his life. Compared with today's medical costs, the bills were minuscule, a little over $300, but at the time they had to borrow money from the bank to pay for the trip and medical care. My mom vowed to go to work and pay back the debt if dad's life could be spared and she kept her word. After a few part-time jobs, she was employed as a clerk at the Post Office. She loved her work interacting with everyone in the village and took great pride in her official uniform.

The house was a symbol of continuity and remained in the family for more than 50 years. I always knew I had a safe place of retreat if it became necessary, so after leaving for college in 1958, I returned to it in 1978 when I had an opportunity to earn a doctoral degree in food science at the University of Arkansas in Fayetteville, only 45 miles away. A reasonable commute. The house became my home again in 1994 when my husband retired from Campbell's soup. It was much better suited for two people than five. We kept the house for several years after we moved our lives to the cabin on Big Sugar Creek. Even then we used it for various important things. For several months I stayed there living across the street from my mom using a baby monitor to be sure she was ok without intruding on her space. It was also convenient to have meetings about community projects in town and for a year we "rented" it to an artist friend in need in exchange for art lessons. It made me feel good to be able to help her and I learned a lot about oil painting.

After my mom passed away, there was little use for the little house, so we sold it. There are still times I miss the comfort and reassurance of knowing that I had a "bolt hole" to go to if times got bad.

I miss my little house. It was a connection to my earlier life and holds many memories of a life well lived.
---
Click on author's byline for bio and list of other works published by Pencil Stubs Online.
---