The Fortieth Year
On Wednesday 02nd June the 40th Writers' Week was opened in Listowel by Judge Brian Mc Mahon. The judge is a native of the town and was appointed a Judge of the High Court in 2007. He has co-authored several legal texts. He is also Chairman of the Board of the Abbey Theatre. The "week" (which runs from Wednesday to Sunday night) consists, apart from fringe proceedings, of 57 events. Space prevents me from giving anything but a very brief account of the action packed festival.
Competition winners were presented with their prizes on opening night and literary talent, Irish and international, was very much in evidence. The Kerry Group Irish Fiction Award went to John Banville.
| | |
| --- | --- |
| John Banville | |
On Thursday the Seamus Wilmot Memorial lecture was given by Robert Lacy, a British journalist and author of the bestselling book, "Majesty Ford" and "The Men and the Machine" among others. His books "The Kingdom" and "Inside the Kingdom" looks at every level of Saudi Arabia. His lecture based on the two periods that he lived in Saudi was most enlightening.
Readings by Jennifer Johnston and Roddy Doyle were a tonic for anyone with a literary bent.
"The Aran Islands Dramatic Recital" by Tegalin Knowlead and Sean Coyne gave a flavour of the works of John Millington Synge. And Joseph O' Connor's reading from his latest book, "Ghost Light" gave a deep insight into the private life of Synge.
The Dublin Shakespeare Society gave a sterling performance of George Fitzmaurice's, "The Magic Glasses," In Saint John's Arts Centre. Before the performance "Vicar" Joe Murphy introduced Kerry T.D. Jimmy Deenihan who introduced the legendry Ulick O'Connor. Ulick, who seems to be getting younger, gave a comprehensive and witty talk about George Fitzmaurice and his many works.
Eddie Hobbs spoke on money, investments etc which don't concern me.
Anthony Cronin, Ann Haverty and Paul Durcan were some of the celebrities present and there were sixteen workshops. These included, Writing for screen, Songwriting, Novel - advanced, Short Fiction and Poetry- Getting started.
The final of the Eamon Kelly International story-telling competition was held in the Listowel Arms Hotel on the Saturday night. I was one of the finalists and it was won, deservedly, by Pat Lynch, from Youghal. As the date was getting nearer I found that I was missing a very significant and important part of the essential costume of the Irish storyteller, the waistcoat. Essex Waistcoats came to the rescue and, at very short notice, tailored one for me. Pipes (necessary props) were supplied by Petersons and Knockcroghery Clay Pipe Centre.
The grand finale of Writers' Week is "The Healing Session", a marathon open Mic session in John B. Keane's on the Sunday. For eighteen years George Rowley has been Master- of- Ceremonies. This year George was made Grand Master of The Healing Session by proprietor, Billy Keane. Yours truly was M.C. and George is a hard act to follow.
George - Hard act to follow
At the end of Writers' Week I got a bit of good news.
The Pantagleize Theatre Company
, in Fort Worth, Texas have now got their very own theatre, at Henderson Avenue. And they are opening their season on 11th September with my play, "And All his Songs Were Sad."

See pic below: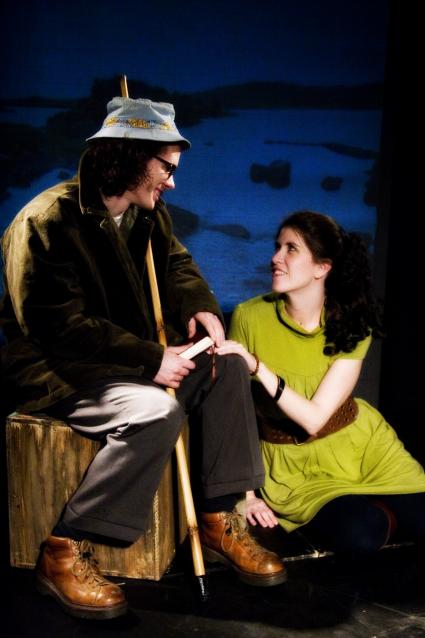 "And All his Songs Were Sad."
See you in August

---
Click Mattie Lennon for bio and list of other works published by Pencil Stubs Online.