DNA: More Mysteries to be Unraveled
When last your author touched on the DNA issue, it was shortly after having received the initial test results in a column published October of 2016. At that time, my first listing of all matches totaled a bit over 400. Today that number of matches has increased significantly: 410
Shared
Matches (these are the matches where the person whose test matches mine has a tree attached to the test and both their tree and mine reflect shared ancestors); and nearly 3,000 matches that indicate we are 4th cousins or closer but with no Shared Ancestors in our trees. As these Shared Matches surface, I routinely check the comparison charts and use the Add Note feature on that person's profile to show how our trees indicate we are related. For the matches that merely reflect a relationship of 4th cousin or closer, I use the Search features to check for surnames, peruse the other person's tree to attempt to determine where we may share ancestors and then use the Add Note feature to capture my findings. Ancestry also offers a Location search feature that may help to pin down relationships.
One of the features Ancestry has provided is what they term the DNA Circles. That is, a report that compiles all the matches of others to persons in my tree whether or not their DNA is a match to mine. In my prior column I explained these DNA circles in this manner:
"…not all members of the Circle have DNA linked to EVERY member of the circle; however, each member is SOMEHOW linked to other members of the Circle and – most importantly – each member's DNA is linked to a family tree that shows direct descent from a Shared Surname Ancestor.
…. In order to create a Circle of relationships, Ancestry requires that three things occur: (1) Circle members share DNA with other members of the Circle; (2) family tree evidence exists that the Circle member is a documented descendant of the key figure; and (3) each member of the Circle MUST share DNA with at least one other member of the Circle."
For a better understanding of how Ancestry's DNA test results work you may refer to that prior column:
The Mysteries of DNA and How it May Aid our Research
The subject matter of this column is the feature offered by Ancestry they term New Ancestor Discoveries. Notices of these discoveries arise when my DNA matches to a number of others' test results where they share a common ancestral lineage to a person whose profile is NOT listed in my tree. Thus, the possibility of exploring how I am (most likely) related to their Shared Ancestor. In October of 2016 I had received notification of three prospective ancestral lines: William S. Strawn (Straughan, Straughn) (1812-1870); John William England (1825-1911), and, as it turns out, his wife, Sarah Wilson Gold (1835-1908).
In order to document my findings as I attempt to tie these prospective ancestors into our family tree, I shall devote a section to each. This is merely an introduction and an attempt to begin the compilation of facts and clues with ongoing research to possibly be revealed in future columns should the relationship be ultimately confirmed.
New Ancestor Discoveries:
New Ancestor Discoveries are revealed if I share DNA with members of a DNA circle which means I might also be related to the ancestor the DNA Circle is built around even though that person does not yet appear in my tree. This may occur in one of three ways:


1)
I am, in fact, a direct descendant of the DNA Circle ancestor. Descendants of an ancestor often inherit pieces of DNA from that person and may share those strands with other descendants of the same ancestor. If enough matches have been discovered to create a DNA circle and my test matches several of those tested, I will receive notice of a New Ancestor Discovery.

2)
I may be related to others in the DNA Circle through marriage or a collateral line. For instance, the DNA Circle shared ancestor may be my 3rd Great-Aunt or maybe the ancestor was married to that 3rd Great-Aunt. In other words, the matches in the circle may occur because we have a DIFFERENT ancestor in common.

3)
I could be related to others in the DNA Circle through multiple common ancestors. This could occur when people are in rapidly growing or small populations. (For instance, where wagon trains travel over long distances from one location to found a new village and the children of one family may marry into other families on the same wagon train. As they establish a community, the children of other families may marry into the two initial families. This has been found true in more than one line in my tree.)
Thus, it appears prudent to first review the tree linked to the highest probability match in the DNA Circle to see if names and locations provide a clue; next, review the Shared Surnames listed for each of those to see if a collateral line may have produced this clue; and perhaps add the prospective person to my tree, collect the various hints available and begin researching the possibilities. Ultimately it is hoped the link may be clearly established.
John William England (1825-1911) and wife, Sarah Wilson Gold (1835-1908)
DNA evidence suggests that you're related to a group of Sarah Wilson Gold / John William England descendants. And because your DNA matches people in the group, there's a good chance you're also related to Sarah Wilson Gold and/or John William England.
In the case of John William England's DNA Circle, I am related to some members of the 5-member group calling themselves the "John William England Family Group" and these five members are shown to be DNA matched to virtually every other member of the DNA Circle, although I am only related to two other Circle members, an individual and some member of another family group consisting of 3 members. The DNA Circle membership totaling 20 consists of a total of eight (8) linked DNA matches. Of these 8 Circle members, there are 4 single person matches (including me) and 4 member groups (the 5 member group previously mentioned, two groups of 3 members each and a fourth group consisting of 6 members). My DNA matches only 4 of the 20 persons represented in this Circle.
Ancestry provides a bit of information compiled from other DNA Circle members' trees:

"When John William England was born on October 2, 1825, in Morgan, Tennessee, his father, Joseph, was 42 and his mother, Malinda, was 34. He married Sarah Wilson Gold on April 6, 1850, in Arkansas. They had 13 children in 21 years. He died on December 16, 1911, in Washington, Arkansas, having lived a long life of 86 years, and was buried there."
Until last month, I had no clue as to how John William England might be related. However, my research into Joshua Logan Younger revealed another researcher believes his mother was … Sarah ENGLAND (not KENNARD as has been accepted by most Younger researchers for decades). This researcher bases her belief on documentation that indicates Sarah Kennard was yet a minor when named in her father's will at a time when Younger historians place her as the wife of John Younger father of Joshua Logan Younger. This certainly bears closer scrutiny. Although this researcher has a tree for her own England ancestors, she does not indicate this Sarah England Younger is related to that branch.
Another possibility is the Elizabeth Bagshawe England who married into my Westcott family line. Elizabeth (b. 1604 d. 1684) married William England (b. 1612 d. 1683). She was also wed to one Hugh Parsons and their daughter Hannah Parsons married Henry Matteson and bore a son Thomas whose daughter Mary wed Thomas Joslyn after her first husband David Vaughan perished. The union with Thomas Joslyn produced William Joslin (b. 1701 d. 1771) known as William of Deerfield. This is our Joslin line. There are issues with the Matteson parentage in my tree so this line of inquiry will require extensive research.
To further complicate matters, one should by all rights consider the shared surnames for the actual DNA matches to see if these lines actually provide a common link. In the England DNA Circle I match to 4 of the 20 named members. For purposes of protecting other persons' privacy, I will not name the individuals. However, England Match 1 is an individual and the surnames we share in common are Davis and Gray, The Davis lines do not look promising as neither names nor locations match up. The Gray line is a possibility in that her
Dorcas Gray
(B: 1790 in Camden County, North Carolina and D: 1840 in Lincoln County, Missouri) while my
Rebecca Jennie Gray
(B. 1 Jan 1768 in Burke, Guilford County, North Carolina and D. 1851 in Clay Township, Wellington, Lafayette County, Missouri). Rebecca was my 4th Great Grandmother, married to Thomas Hopper, Sr.
The other DNA matches in this Circle have so few profiles in their individual trees it would be pure speculation to attempt to locate a shared ancestor, collateral or direct.
This fails to pursue the equally strong match to descendants of John William England's wife Sarah Wilson Gold. Ancestry's compiled biography for Sarah Wilson Gold is as follows:

"When Sarah Wilson Gold was born on February 17, 1835, in Rutherford, North Carolina, her father, Sterling, was 41, and her mother, Cynthia, was 35. She married John William England and they had 13 children together. She also had two daughters from another relationship. She died on July 29, 1908, in Washington, Arkansas, at the age of 73, and was buried there."
For Sarah, there is a wealth of information compiled from 169 family trees that I shall peruse. One DNA Circle member's tree shows our Shared Surnames to be as follows: Davenport, Harrison, Hill, Jones, Keller, Lewis, Lowe, Morgan and Russell. These will need to be checked for dates, locations and possible matches. One item I always love to find is a photograph, this one is of Sarah and her daughters although they are not named.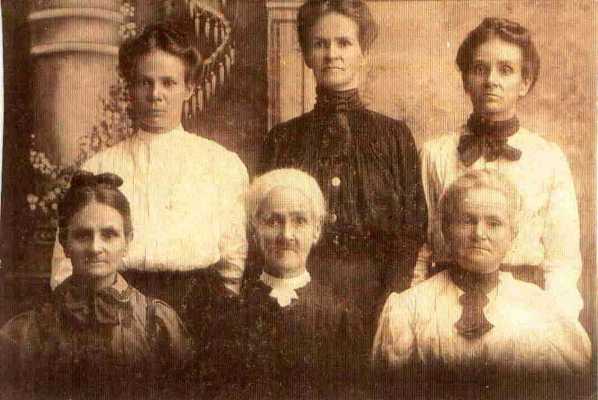 Sarah Wilson Gold England and Daughters
William S. Strawn (Straughn, Straughan) (1812-1870)
Ancestry's bio for William Strawn:

"When William S Strawn was born on January 12, 1812, in Giles, Tennessee, his father, Stephen, was 30 and his mother, Elizabeth, was 20. He was married three times and had six sons and three daughters. He died on January 31, 1870, in Lawrence, Missouri, at the age of 58, and was buried in Verona, Missouri."
In this case my DNA matches 7 of the 14 members in the Circle, 4 individuals and 3 members of a group. Examining the individual members produces some shared surnames but, thus far, no actual matches. However, one appears quite promising. My early scrutiny of William S. Strawn seems to indicate he is related as a descendant of a Browning on my maternal line. This individual's tree and mine share these surnames: Browning, Bryant, Davenport, Davis, Evans, Lewis, Morgan, Sanders, Strother, Washburn, Wright. The Browning-Washburn connection is the probable match, although this particular individual has listed dates and locations of birth and death for his Nicholas Browning (m. Sarah Washburn) from those in my tree. I believe this may be reconciled by corresponding and comparing documentation.
Another member's tree reflects a relationship to Martin Davenport as does mine.
Lorenza Dow Funderburk (Von der Burg, Vonderburk, Von der Berg) (1855-1937)
In this DNA Circle, my DNA matches 3 of the 10 members. This is reputedly an aristocratic German line, extending back to Adolf Lazarus Von der Berg, b. 1675 in Berg, Ahrweiler, Rhineland-Palatinate, Germany. Adolf married the Princess Elizabeth Anna of Berg (b. 1680, d. 1722) whose father was Philip Weilhelm (b. 1654, Darmstadt, Darmstadt, Hesse, Germany, d. 1690) and mother, the Duchess Elizabeth Amalie Magdalena (b. 1658, d. 6 Apr 1695). Although the tree is somewhat convoluted, these "facts" will need to be scrutinized carefully.
Philip Williams (1814-1888) and wife Eliza Moore (1821-1882)
Here my DNA matches 5 of the 12 members of the Circle for both Philip and wife Eliza. Ancestry provides a compiled bio for each:

"When Phillip Williams was born on April 6, 1814, in Bath, Kentucky, his father, Thomas, was 33 and his mother, Mary, was 27. He married Eliza Moore on March 16, 1837, in his hometown. They had 19 children in 24 years. He died on June 2, 1888, in his hometown at the age of 74."

"When Eliza Moore was born on December 9, 1821, in Bath, Kentucky, her father, Solomon, was 21, and her mother, Margaret, was 19. She married Phillip Williams and they had 19 children together. She also had one daughter from another relationship. She died on October 1, 1882, in her hometown at the age of 60."
With one of the DNA match members of these Circles, I share 29 other DNA matches. One is my sibling; however, most of the other 28 have attached their DNA tests to no family tree, thus providing no help in identifying the common thread. Very helpful tool even though, in this case, it did not help.
The second match in this group shares the following surnames (but no matches) with me: Davis, Hill, Jones, Shippee, Wade, Wright, Young (maternal line), and Younger (paternal line).
The third match seems to point to Lowe as the line that may connect us. Several of the Shared Matches where this person's DNA and mine match to the same third parties, have Margaret Lowe (wife of our George Hempleman Alexander). This will be a good starting point for research of this potential ancestral line.
Future Research:
This compilation of factoids should point the way for your author to delve into the backgrounds of these individuals and attempt to determine how we are related. It is always good to have a plan of action that helps to focus your efforts and pinpoint areas of research. It is always a fascinating trip!
---
Click on author's byline for bio and list of other works published by Pencil Stubs Online.