By Bud Lemire
We're living in a Covid world,
We should be living on the moon
But even if we lived there,
Covid would get to us soon.

The New Variant is now going around,
It might even get to you.
And it is wherever people are found,
Just in case you never knew.

Just when you thought it was over and done,
Comes a variant newly born.
To add to all with even more Covid fun,
That's why I blow my horn.

Some may have the same symptoms, as someone you know
Ignorant people won't think they have it, it just goes to show
They say that everyone, will have their turn
To experience this new Covid, maybe some will learn

No matter where you are, no matter where you go
Covid will arrive there, and put on a sickening show
Oh yes, Covid will get you, it's going to get you soon
We're living in a Covid world, we should be living on the moon
©Feb 26, 2023 Bud Lemire
Author Note:

The new variant has reached where we live, and people are
getting it now. As I said, some still won't believe there is
such a thing, while others will know they have it. Listen
to your Doctors and Medical staff, many of them know.
Let it run its course, rest, and follow what your Doctor
tells you. Hopefully, it won't last long. I wish you well.
I hope it's not too hard on you, and you come out of this
feeling much better.
---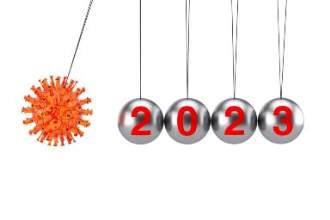 Click on author's byline for bio and list of other works published by Pencil Stubs Online.
---